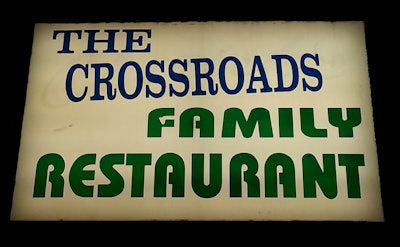 We found heaven on a plate in Logan, N.M.
We were on our way back toward Ohio from Reno. For some reason, instead of keeping us on I-40, right outside of Tucumcari the GPS suggested we take 54 up through little slices of Texas and Oklahoma and into Kansas. After looking at the map and seeing we would be going through Hooker, Okla., and Liberal, Kan., I insisted we take the route. The weather was good, and it would be a change of scenery. I also love doing Facebook check-ins in places with names like Hooker, because I secretly have the mentality a 12-year-old boy. (OK, so maybe it's not such a secret, but I needed a disclaimer.)
For those of you who haven't traveled 54 through Northern New Mexico, it's about as far out in the middle of nowhere as you can get and still have a road. Tons of grain and cattle haulers. You may be able to use your cell phone to scrape giant bugs off your windshield, but if you intend to make calls (or use your truck stop apps) you can hang it up. (Haha! See what I did there?)
There are a lot of tiny towns to look at (and slow progress – this isn't a quick route, by any means), but not a lot of truck parking at restaurants. The few truck stops were more convenience store-type things, no sit-down eating. George had decided to make Texas and find a pull-off. It would be a "truck food" night.
We keep the truck stocked with basics. It's not too hateful to eat from the cooler once in a while — it happens. It's one of those things I'm not crazy about but can deal with.
We slowed down to roll through Logan, a little-bitty place fairly close to the Texas state line. At the far edge of town there was a light, a beacon if you will, advertising the Crossroads Family Restaurant.
Lo and behold, there was a big ol' pull-off right in front. George made me a supremely happy woman by placing our truck directly in the pull-off and shutting it down. Neither one of us had been looking forward to eating beef-a-roni MREs. God bless the American soldier who has to eat that crap every day. Fills the belly but does absolutely nothing for the soul.
"Let's eat."
It was 6:40 p.m. The sign on the door said "Open from 7-7."
"They're not going to be happy to see us."
"Probably not. We'll order it to-go."
We were greeted at the door by a young waitress.
"Hey, if it's too late to sit down, we'll be glad to order to-go."
"No, no! Sit down. It's fine. Sit wherever you like."
The front table in the little dining room was occupied with four gentlemen and a lady. One guy in particular was clearly holding court.
"You can sit anywhere but on my lap." He pointed at me. "Except for her, she can sit anywhere she wants."
George chose a table and pulled the chair out for me.
"I think we'll be fine over here, thank you, sir."
We were being cool. As the outsider, you just never know if someone is pulling your leg or antagonizing you so they can soak you in gasoline and set you on fire. We've been in some really small towns that were a little scary — it's always best to tread lightly until you know if the natives are friendly.
"I'm just kiddin' with ya, have a seat and order what you like. We'll feed ya'."
George relaxed and started his "magic George speak." He can talk to anyone. I attribute this to his Dad being Air Force and him moving around a lot when he was growing up. He never says anything weird, it's amazing. I usually remain quiet and let him make friends for us.
The menu was simple and included all the comfort foods. Everything is made from scratch, right in the little kitchen up front. They have daily specials, each cook has a recipe they've perfected and they take turns making it the delight du jour.
I opted for the cheeseburger and fries. George got a cheese steak sandwich and tater tots. I realize that's not very adventurous, and I usually order the same thing over and over no matter where I go, but it's my personal experience if they can get a cheeseburger right, everything else is good.
The lady who had been sitting at the table with Mr. Sit-on-My-Lap jumped up to make our dinner. As George continued making small talk with the guy, we found out he was actually the owner.
Jimmy Liles is a very thin man, but he takes up a lot of space in a room. He's loud, funny and clearly in charge. There is one item on the menu named after him, the Jimmy Slide, which is two ground beef patties on an open faced bun, smothered in homemade red or green chile sauce. You have a choice of potato chips, french fries, curly fries or tater tots as the side item. This meal describes Jimmy's personality pretty well, he's a whole lot of beef with a nice dash of sweet fire to make things interesting.
Our food was excellent. The cheeseburger looked just like the burgers my Momma makes. You know it was patted out by hand: irregular on the edges and falling apart from juiciness. George's cheese steak was an actual steak, chopped up into thin slices, definitely not a Steak-uuumm sandwich. We enjoyed the meal, along with the conversation. We eventually got around to talking trucking, like we always do.
"We love truckers, we open our doors to them anytime. We don't have a lot of parking available, but there's usually a couple of places we can find to put a truck."
Jimmy went on to tell us he's only had a problem with one trucker in all the years he's been open.
"The guy complained because the coffee cups were too big. I figured if he would complain about getting too much coffee, he'd complain about anything. So we put his coffee in a to-go cup and showed him the door."
We commiserated over how some of the younger drivers don't have the respect for places like they should, and the lack of parking in most places for big trucks. We all stepped out to have a smoke after our meal, the waitress turned off the outside sign as soon as we walked out. While we were standing in the parking lot, a family in a van with out-of-state plates pulled in.
"Hey, are y'all still open?"
Jimmy turned to George and said, "Watch this."
"Are y'all hungry?"
"Yes sir, we are. Not sure if there's any fast food down the way."
"There ain't much, come on in, we'll feed ya'."
It was almost eight o'clock, the restaurant was supposed to have been closed for an hour, yet Jimmy invited the family in to have a meal and some conversation. That's how Jimmy rolls.
"If you're hungry and I'm here, I'll feed ya'."