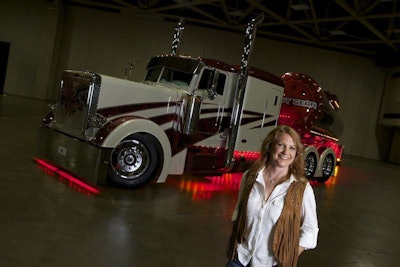 Quote of the Day
"She is my saving grace, my best friend, my wife and the Most Beautiful Woman in Trucking, inside and outside!" (about contestant, Angie Carter)
We are only a week into the voting for Overdrive's Most Beautiful and I have been amazed by the response. Nearly 2,000 people have voted and the numbers continue to climb. Back when we first kicked around the idea of shining a spotlight on the beautiful women truckers out there, we hoped a few would submit their application. Much to our astonishment, more than 70 gorgeous women of all ages entered the contest and the voting began on April 1. We had a few computer glitches a few women were inadvertently left off and then added back in. It took a few days to get the mobile version running and some voters reported issues with the voting process. But now I'm happy to report you can vote with any device you have on hand including your mobile phone. And, you can vote once a day for up to five lovely ladies.
Let me repeat what I've said all along. It takes courage, guts and self-confidence to enter a contest like this. If you are one of the 70 women smiling from these pages, congratulations to you! If you are a voting for your favorites, please do me one favor: Read all the stories and truly listen to their words. This is one kick-ass awesome group of ladies and we are proud to splash their images and stories across Overdrive's pages.
Check in every day to vote. And spread the word. Trucking really never looked so good!