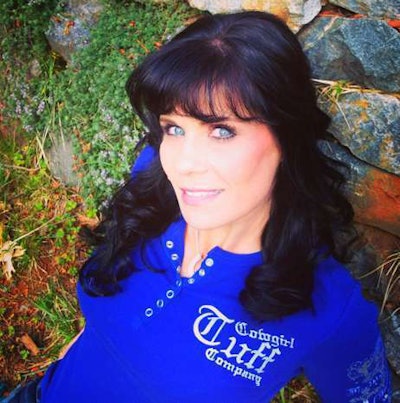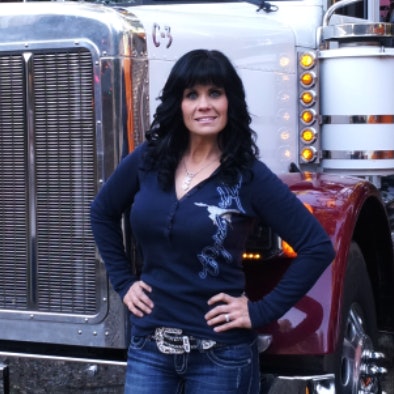 Meet Tina Comer, finalist for Overdrive's Most Beautiful Contest, who will be appearing at the Great American Trucking Show along with finalists Libby Clayton and Maggie Stone. Overdrive launched the contest to highlight women drivers who reflect beauty inside and out, and who represent the profession well. The finalists more than meet those criteria, yet they are by no means dainty creatures cruising in trucking's easy lane: One hauls logs, one hauls hogs and one pulls doubles.
"Do the best job you can do, and learn to laugh at yourself, because you're going to bend a bumper on a stump once in a while."
Tina Comer says it's her mission to make everyone her friend, and it sounds like she's well equipped for that goal: "I get compliments on my eyes and on my smile," she says.
She takes in stride being a lovely lady in one of trucking's toughest segments. Comer's part of a tight-knit group of California loggers that also includes other women.
Drives for: Comer Trucking, owned with her husband, Robert
Years in trucking: 24 with Comer Trucking, six years as a driver
Hauls: Logs, in California
Truck: 2006 Peterbilt 379Home: Pollock Pines, Calif
"I grew up in a family where I've got four big brothers," she says. "I'm just used to being around guys more so than women anyway. I guess I just don't even think about it that often."
Comer has been helping her husband in their business for 24 years. Six years ago, when the youngest of their four children was old enough, they added a second truck, and she began driving. "Sometimes, we even get to haul a load together," she says. "We love working side by side."
So is there a sisterhood in trucking?
The majority of the girls that I know that drive, we all haul logs, and we're all just buddies.
Is there one thing you wish you would have known before you started trucking?
I kind of had an advantage because my husband has done this for so many years. But I wish I had known that I didn't have to be so serious about trucking. Just go out, do the best job you can do, and learn to laugh at yourself, because you're going to bend a bumper on a stump once in a while.
If you could fix one thing about the trucking industry, what would it be?
The cost of being an owner-operator – the fuel prices, the benefits. It's getting harder and harder, in California especially with CARB and such. It should be more profitable to do this job that we really love.
[youtube vad25fuEXOA nolink]