Owner-operator Oscar Robledo was surprised when Taylor, Mich.-based Load One President John Elliott asked him to bring his 2005 Western Star straight expediter to the Expedite Expo to show in the Load One booth. "My truck is a working truck," Robledo says — as with most honest-to-goodness on-the-road-every-day haul trucks, while it looks spectacular at a distance and takes a dandy photo, as you can see, look closer and it shows its hard use.
But Elliott says the owner-operator shouldn't have been surprised: Elliott doesn't do dealer-swaps for brand-spanking-new company-lettered booth trucks, as some do, rather operating on the principle that for any driver looking to get into the business leased on to or driving for the fleet, it's best they see the reality, not just the best-face-forward version.
Robledo's happy to point that out. See the photos below for some evidence of a run-in he had with another truck driver just 15 miles up the road from the Expedite Expo, as it turns out, at the TA on exit 65 in Jeffersonville, Ohio. The driver raked his front end trying to back in. "I was in the shower," he says, and when Robledo came out, the young man, his spiked hair dyed purple, was standing hangdog by the Western Star. "Man, you're not going to like me," he said.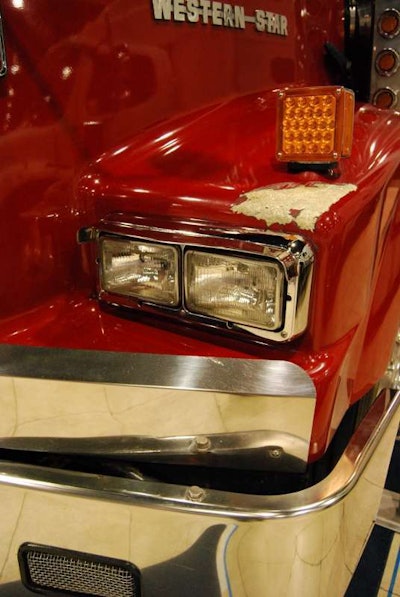 The front end still shows scars just north of the driver-side headlight, likewise in the front bumper and missing passenger-side fender guard.
Robledo got into trucking after retired from a Detroit-area General Motors plant, starting out as an owner-operator in a big Kenworth W900 tractor hauling van freight. He moved to expediting in 2008 with the purchase of the Western Star from another owner-operator who was looking to get out of it. He puts an interesting perspective on straight-truck hauling: "Given the dangers on the road," he says, from reckless four-wheelers, weather and everything else, "I feel more confident in my ability to maneuver it." He's been running under Load One's authority now for a year and a half.
Also at the show, Load One's Elliott with driver Blake Mullins is showing his own personal project, a vinyl-wrapped trailer dedicated to military veterans — a showpiece he says the fleet only uses in charity events and on holidays to commemorate military servicemembers. (Elliott himself is formery Army.)
"We use it for the Wreaths Across America wreaths," he says, "Toys for Tots, we sent it to Oklahoma this year with other trucks to deliver relief supplies."
On Memorial Day, the fleet often will put it out in front of their headquarters building, or stage it at a military facility. Find pictures of the van and the 2013 Cascadia that hauled it to the Expedite Expo below with further images of Robledo's truck in the gallery below.