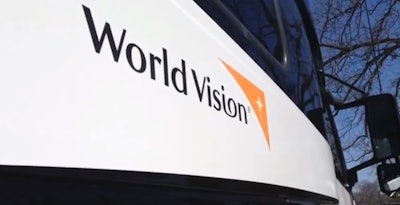 For this driving team, world travel is all in a day's work.
Mike and Sherri Washington drive the country promoting a cause that is well-known, but more often than not, misunderstood. Driving for Mobility Resource Associates, they're hauling an exhibition in a custom trailer that tells the tale of a child growing up in a Tanzanian village.
In 2008, Mike, working in the technology industry, saw layoffs coming and decided to make quick decisions to protect himself and his family.
"I'd always been interested in driving — so I reinvented myself and became a truck driver," Mike said. Mike began running freight for several companies, and Sherri was a branch manager at Wells Fargo.
"When our youngest son graduated high school, he told me I should join Dad out on the road," Sherri says. "The banking industry was getting over-regulated, and I saw it as a good time to make a change."
Sherri went to truck-driving school at Stevens Transport of Dallas, Texas. Through much of last year, Mike and Sherri ran refrigerated freight for Steven until their lease was about to expire. A chance meeting with another driver while at a Peterbilt factory turned them on to Mobility Resources Associates, based in Madison Heights, Mich. The couple was hired by MRA in October of 2012.
The company, which builds trailers for marketing purposes, also has a partnership with international childrens advocacy organization World Vision. MRA recruited Mike and Sherri to tour the U.S. promoting the World Vision "Kisongo Trek" and its purpose through an educational experience located on the truck.
The couple drives a 2006 VT780 Volvo, pulling a 53-foot trailer with double-expandable sides that turns it into a 1,000-square-foot facility. While many of the drivers involved in the tour simply drive from place to place, Mike and Sherri do double duty.
"We have a different role—we drive to the event, and then we work it, too," Sherri says.
The couple tells event attendees the story of Babayetu, a child from Tanzania. Babayetu is World Vision's real-life example of where money that flows into the nonprofit goes and what is done with it.
"By telling his story, World Vision hopes to illustrate to the public the work they are doing in each country they are in," Mike says.
According to the couple, attendees also have the opportunity to sponsor a child after they leave. With Mike's background in technology, he takes care of all of the setup involved in the event and running the video.
The couple was drawn to the job description immediately.
"The experience … is meant to give the public hope, [telling them] that their contributions actually do help," Sherri says. "We feel like we are doing something that actually helps the greater public, and it's fun!"
MRA was also a huge draw, Mike says. "The owner is extremely hands-on, usually working with drivers. All in all, we have little responsibility at home now that our kids are grown, and this kind of responsibility makes you feel good at the end of the day."
Mike and Sherri tell more of their story in the following video.
[youtube VbyBOsICXQA nolink]