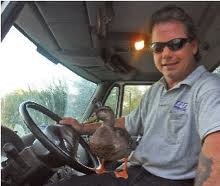 I called Joe Mansheim about entering Frank the Duck into Overdrive's Most Loved Pet contest and we chatted about how his duck buddy makes him happy. In fact, he handed the phone over to Frank who quacked happily into my ear, clearly agreeing with Joe's assessment.
Mansheim, who is leased to Elite Transportation in the Twin Cities, brings his Mallard duck along on all his trips.  Five years ago, the avid duck hunter bought Frank as a joke. He was immediately attached to the little duckling and they've been riding together ever since.  Frank causes a stir wherever he goes and Mansheim says he's referred to as the 'duck man.' "That's okay with me. In fact, if more people had a duck in the truck, there would be less angry people out there."
If you have a pet you'd like to enter in Overdrive's Most Loved Pet contest, enter now! The stories, videos and photos are a daily dose of happiness.