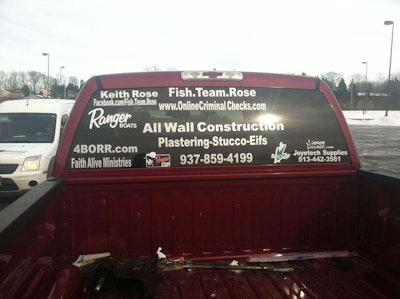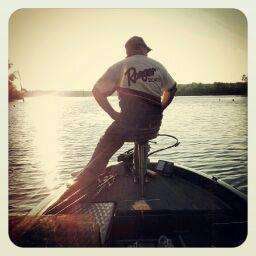 Our son-in-law, Keith Rose, is half of the dynamic duo that is the semi-pro fishing team we sponsor. His dad, Tim, rounds out Fish Team Rose, and they're our favorite pick for winners on the Finhunters Team Trail this summer.
I love to fish and have been doing so since I was a little kid. I have been known to run from the truck to any body of water I can find and throw a line in while George scolds me for fishing in whatever state we happen to be in without a license. I fish from a bank, pier or bridge. I've never been much of a boat fisher, mostly because we don't have a boat, so getting involved with the passion Keith has for tournament fishing, I've learned a lot about equipment. Here's the low-down: it's expensive and there's a reason they need sponsors. Because neither of them was born independently wealthy.
There's a lot more technology involved with fishing for money than there is a simple Sunday afternoon pole-dip. Keith and Tim run an '89 Ranger 373v with a Mercury Black Max 150 XR4 motor that gets about 2.66 mpg. (And you thought your fuel efficiency was bad.) Hanging off of the boat are two Hummingbird side scan sonars, a 998 HD SI on the console an an 859 CI on the bow. They complete the ensemble with a Motorguide Brute 750 trolling motor and begin their day on the water with close to $30,000 worth of equipment before the first line is cast, lure bought or made, tournament fee paid, or gallon of fuel purchased. Did I mention it's an expensive sport, and their sponsors are important? Because I probably should.
But what does this have to do with trucking? Besides the obvious fact that a trucking company is sponsoring a fishing team?
I have a theory that all things lead back to the trucking industry, in one way or another. Any subject you can approach can be related to trucks, in ways besides the extremely obvious – like they bring you everything you need. I like to find the strange things that tie it all together, the things you would never think of, so the next time you go fishing, or watch Bill Dance make a ton of money falling out of his boat on TV, you'll say, "Hey, that Wendy chick wrote an article about this once. She took five minutes of my life from me and I'll never get it back, but now I know how trucks and side-scan sonar are related."
To that I say, "You're welcome."
Flashback to December of 2013, when George and I were running around Virginia, trying to see a rocket launch. We did not get to see a rocket launch, and I wrote a story about it, but I don't think anyone was interested because the rocket never went boom and the follow-up story never ran. Anyway, we spent our time learning things, like good wanderers should, and ended up over at Marine Sonic Technology, Limited, so we could expand our brains while visiting with George's Uncle Mike (Parker), who is the Electronic Production Manager for MSTL, and has worked for them for nine years.
We really stopped to see Uncle Mike, but he ended up giving us a grand tour, and I was once again surprised by how far and wide the ties to the trucking industry reach.
MSTL builds the deluxe, big-boy version of the technology Hummingbird uses in their sport models. Their primary customers are law enforcement and first responders. They use the sonars to find bodies, recover stolen vehicles and locate cargo that has fallen off of trucks traveling across bridges.
Wait, what? Trucks?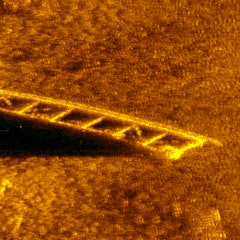 Regan Lipinski, the Marketing and Training Manager at MSTL, took the time to sit down and find some images for me to share with you of some errant cargo and a dual shipping container. He also explained that the sonar is often employed when large ships lose containers.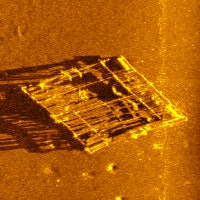 He went on to tell me that the barges don't secure the stacks to the ship — if it begins to list enough to displace the tower of heavy containers, they actually want them to fall off the ship so the containers don't drag the ship down. If the cans are valuable enough, or enough of them are lost, a recovery effort will be sent out with the big sonars, and the containers will be hauled up, out of the ocean and back to the yard for salvage.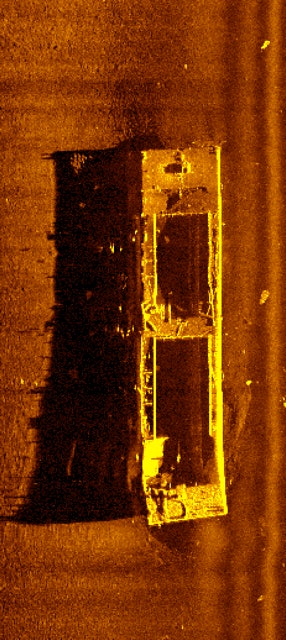 There's a lot of freight hauled in shipping cans. We see them all day, every day, especially around port towns. Now that I know some of them could have possibly been on the bottom of the ocean, I can't help but imagine they're all carrying face-eating octopuses and slime from Davy Jones' locker. That being said, I was delighted to find the weird connection between the trucking industry and the side scan-sonar industry. Enjoy the images.