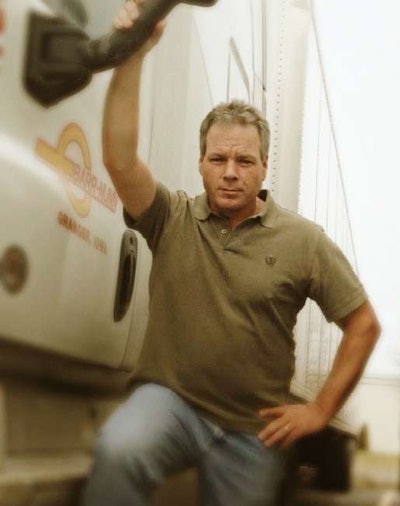 When Brad James realized he could sing karaoke on his iPhone, something he enjoyed doing when he wasn't working, he was excited to spend his rest breaks that way. But James, a company driver for Barr-Nunn Transportation, didn't know the songs he sang on his phone automatically posted to his Facebook page.
"On my break, I would sing, sing, sing, and I didn't realize it was posting. I went to check my Facebook, and I was afraid I was going to lose all of my friends," he says after seeing his posts dominate his Facebook timeline. He then created the Brad James Facebook page, leading to the Brad James YouTube channel. He now has more than 9,500 Facebook page likes and nearly 2,000 YouTube subscribers. Fans can catch the singer in person as he performs at the Mid-America Trucking Show Friday, March 29, from 6-9 p.m. in the Papa John's Parking Lot.
James hauls freight in a 2013 Freightliner Cascadia and posts videos of his singing several times a week, usually posting covers of popular songs such as "Lady" by Kenny Rogers and "Home" by Alan Jackson. However, James gained more widespread attention with "Detention (You Ordered It, You Unload It)," a parody of Otis Redding's "Dock of the Bay" you can hear/view below. He uploaded the video Feb. 28, and it has now garnered more than 25,000 views.
"Since I am a driver out here, I tried to make some of the songs more about trucking by changing up some of the lyrics," he says. "I was going to sing the original, but something about the words 'sitting at the dock' kept bouncing around inside my head. Twenty minutes later I had written it." James adds he's never had that kind of viral attention before, with commenters from as far as the United Kingdom and Australia. "It floored me. It took me a day to realize how big it was," he says.
Before the "Detention" video, James estimates he was singing to about 1,300 people. Post-"Detention," he estimates he's singing to around 10,000 people.
James, of Port Orange, Fla., got his start singing in his church youth choir at age 15. He started singing karaoke about 15 years ago. He tends to mimic the styles of Garth Brooks and Keith Whitley, but his favorite vocalist is Christina Aguilera. "I am just in awe of her," he says. "She has to be one of the most talented vocalists I've ever heard."
James' popularity has brought forth new opportunities. He will perform as part of the 2015 Truckin' Bozo/Truckers Gone Wild Cruise next February, and a talent scout contacted him to book him as an independent artist in Nashville. This would give him the opportunity to record in a studio, and he's currently in talks with sponsors to get help.
If Christina Aguilera returns to NBC's "The Voice" for Season 7, James could meet his favorite singer; he plans to audition for the show. He will submit his video audition in the next few months. Having more than 80 songs in his repertoire, he's considering letting his Facebook fans pick which songs he should sing.
Meanwhile, he will continue recording videos in his "Rolling Recording Studio."
Catch him next week Friday, February 28, 6 to 9 p.m. in the Papa John's Parking Lot at MATS.
And enjoy the vid below.
Overdrive is considering a driver music contest and we're looking to hear from aspiring singers. Let us know if you'd be interested in competing. And if you've got an audio or video clip, or link to one, send it: mheine@randallreilly.com.
[youtube jFt_pZBsGr0 nolink]