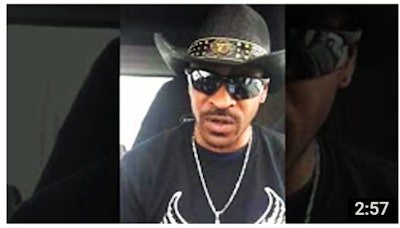 Among the multitude of great performance in this year's round of videos up for consideration to compete among the final three in the Trucker Talent Search finale at the Great American Trucking Show, one in particular stood out for a couple of reasons. Terrance Mathis' "Take This E-log and Shove It" parody version of Johnny Paycheck's classic is no doubt timely as a topic of discussion here, but also Mathis' showmanship and sense of humor just jumps off the computer screen.
The Kloeckner Metals company driver, born and raised in Rockford, Ill., where he lives today, has been creating parody versions of popular tunes for better than half of his 27-year career in trucking. He stays in the region around Chicago for most of his runs today, and he's been on some form of e-logs for about four years, he says.
Some time back, "I heard a guy out there one day complaining about the e-log, and it just so happened that I was listening to Johnny Paycheck at the time," Mathis says. Next thing you know …
Mathis' penchant for parodying popular songs stems from the days before a lot of options for customized listening, when he might find himself in an area with nothing but the local rural country station to listen to, say. "You had to listen to whatever was available," he notes. To keep it interesting, he might "put a trucker's twist" on the lyrics and sing it over the radio time to time.
A couple years ago he became aware of Brad James and his similar efforts after James' "Detention" parody of Otis Redding's "(Sittin' on) The Dock of the Bay." Mathis has since put forward around 25 or so videos of his own, utilizing his "Jake Brake Junkey" CB handle as nom de plume of sorts.
Among the first to create a bit of notoriety among fellow drivers on Youtube was "Truckersville," after Jimmy Buffett's "Margaritaville." 7,780 views and climbing:
Mathis' background in music consists of being "forced to be in a church choir as a kid," then also being involved in a Christian step group. Likewise, he recalls from his youth a local radio station's festival stage where he and a friend did a version of Eazy-E/NWA's "We Want Eazy."
"As I got older, I got into the worship and praise team at the church," he says, but "never did any singing at school or anything like that."
Today, he hauls in a Freightliner daycab and wasn't planning on entering the Trucker Talent Search this year. A little extra pressure from a friend he'd written a song for, however, changed his mind, ultimately. "She said, 'you better, you better,'" Mathis says. That's right: "47 years old and still getting peer pressure."
You can check out vids from all of this year's Trucker Talent Search competitors via the playlist embedded below: