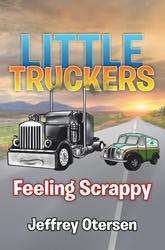 A self-described "truck driver for 28 years," Jeffrey Otersen has penned a book in Little Truckers: Feeling Scrappy. Told in a colloquial narration intended for young readers, the book tells the story of Petee, a close-to-retirement 1960s classic of a rig, a living legend to the rest of the trucks on the yard at Shamrock Lucky trucking company in Truckington, Ohio (Otersen is native to Toledo).
The company boss surprises all the trucks with a "brand-new, state-of-the-art semi-truck named Vahnders," as tells the book's description at its Amazon page. Vahnders "thinks he can do everything better and faster than all the other trucks" as Petee is "hauled away by Scrappy to the scrap yard."
Petee, though, leaves a message behind for the trucks that he's "gone on a big adventure." And pretty soon, sure enough, Petee's needed again as Vahnders encounters some weather he just can't handle. The story proceeds as the rest of the fleet attempts to find just where Petee's gone.
Otersen notes in his bio that he's been at work for quite some time writing more stories, personifying other trucks from the same fleet, among other characters. "My goal," he says, "is to write a total of ten stories." Stay tuned.