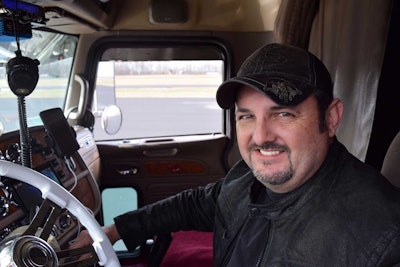 Today, July 4, is the final day that registrations for the Great American Trucking Show in August will benefit your choice of one of three trucking charities. Free registrations will remain open until the show begins.
For each registration by July 4, GATS is donating $1 to the registrant's choice of Truckers Against Trafficking, TruckersFinalMile.Org or the St. Christopher Truckers Relief Fund.
GATS will run Thursday-Saturday, Aug. 24-26, at the Kay Bailey Hutchison Convention Center in downtown Dallas. Registration for the show and lodging information is available at TruckShow.com. Online registration is free before the show begins. Onsite registration will be $10.
This year's Great American Trucking Show in Dallas will feature a Friday evening party for attendees, as well as trucks made famous in Hollywood in the 1970s.
The Aug. 25 party, sponsored by Uber Freight, will feature live music from trucker and recording artist Tony Justice and Australian singer-songwriter Jayne Denham. Justice's three records since 2011 have driven the rise in his profile among truckers. His fourth is due this summer. Justice drives for Greeneville, Tenn.-based Everhart Transportation Inc.
The party will be held from 5:15-8 p.m. at Eddie Deen's Ranch, next to the convention center. Admission is free and will include BBQ sandwiches and fixings. A free ticket can be picked up at the Uber Freight booth in Lobby B, near the main entrance to the show.
Upcoming Event

Where Trucking Improves
The Great American Trucking Show is bigger and better than ever before. Don't miss out on the rigs, the swag, the education and more.
Discover GATS! →
Join a community of truckers at GATS
From free concerts to highly educational sessions, GATS is where trucking gathers. August 23-25, in Dallas, Texas. Register today.
Established events returning to GATS include
Overdrive
's Pride & Polish,
Truckers News
' Trucking's Top Rookie contest, the
Overdrive-Red Eye Radio Trucker Talent Search finals
, and
Overdrive
's Partners in Business seminars, sponsored by Ryder and
truckstop.com
.
Attendees will alos get a firsthand look at the original tractor and trailer from the TV series "BJ and the Bear," the original tractor from the TV show "Movin' On" and, at the DAS booth, a "Smokey and the Bandit" replica truck and trailer.
The Progressive 5K Run/Walk will be held 7 p.m. Thursday, Aug. 24, at Trinity Grove Park along the Trinity River. Proceeds will benefit the St. Christopher Truckers Development and Relief Fund, a nonprofit that helps drivers whose medical problems have led to financial hardship.
The Health Pavilion will offer services including retinal scanning, as part of diabetes screening, by Dr. John's Medical Solutions; mammograms by Baylor, Scott and White; eye screenings by UT-Southwestern; and bone marrow compatibility tests by DKMS. DOT physicals will be offered by AccuScreen Drug and Alcohol Testing for a reduced price of $55.
Drivers can park their rigs for free at the TA-Petro Truck Parking Community. There will be free showers, free shuttles to and from the show and some basic truck maintenance offered by TA-Petro. Drivers with pets can take advantage of on-site pet grooming from All Paws and Claws from 8 a.m. to 5 p.m. on Friday and Saturday, along with a pet parade at 5 p.m. Saturday.
Live music at the parking will be provided nightly by Denham, truckers Bill Weaver and Paul Marhoefer and others. An auction will be held to benefit Trucker's Final Mile.