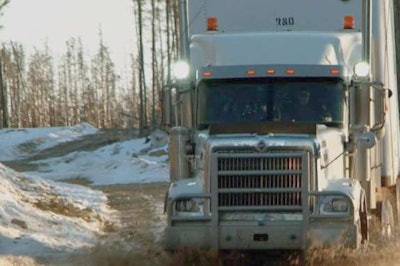 Mild weather turned the ice roads to mush and drivers had to deal with the onset of spring in the penultimate episode of the 11th season of History Channel's Ice Road Truckers that aired last week, writes Overdrive sister site Truckers News Editor David Hollis in his weekly recap.
Todd Dewey had to haul an oversize load – an 80-foot by 14-foot camp shack – along a narrow, twisty ice road with several steep hills in the episode. He ran into trouble when he came up on two trucks traveling in the opposite direction. All three trucks ended up stuck in some new snow and had to shovel themselves out.
Lisa Kelly and Steph Custance were running together on the roads, but Kelly's truck began filling up with smoke. Both women stopped and began inspecting the problem to find a faulty fuse hadn't broken when it should have, causing wiring to melt and smoke.
Veteran ice roads driver Art Burke thought he was delivering his last load of the season, but a call from Polar Enterprises owner Mark Kohaykewych had Burke picking up a bulldozer to backhaul.
See full coverage of the episode with Hollis' recap here. Ice Road Truckers' final episode of the season airs on the History Channel at 10 p.m. Eastern on Thursday.