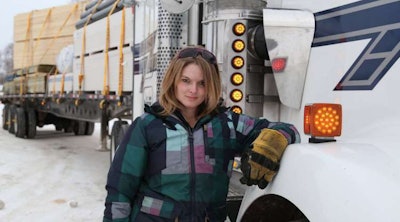 The latest episode of the History Channel's Ice Road Truckers saw three of the four stars wind up in ditches on their respective trips, writes Overdrive sister site Truckers News Editor David Hollis.
Alex Debogorski was bobtailing to his next load and ended up in a snowbank on the side of the road.  He chained up, but that didn't help, so he started shoveling. Luckily for him, a couple strangers in a pickup truck came to his rescue.
Lisa Kelly is the only one of the four that managed to stay out of trouble, until she tried to help one of the stranded drivers.
On the road to her stop, Kelly was flagged down via CB by Reno Ward, who had swerved off the road to avoid an oncoming pickup truck. Kelly attached a chain from the front of her truck to the back of Ward's, but ended up ripping off her front bumper trying to pull him out.
Art Burke, in an attempt to get up an icy hill, didn't quite make it and slid back down the hill into a ditch. He was able to chain up and get out of the predicament, however.
See full coverage of the episode with Hollis' recap here. Ice Road Truckers airs on the History Channel at 10 p.m. Eastern on Thursdays.