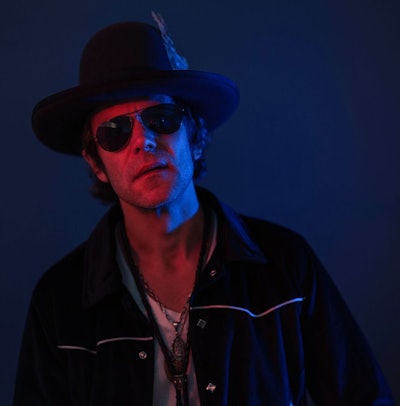 Nashville-based singer-songwriter Boo Ray has a new record coming in February 2019, part of its cover shown above with the track that delivers the verbal and sonic picture that is the album's title, "Tennessee Alabama Fireworks." That first single from the record, "A Tune You Can Whistle," Ray and his team offered up to Overdrive readers for download, and you can hear its outlaw Americana strains above via Ray's SoundCloud profile, too.
Download "A Tune You Can Whistle" directly via this link.
The song in some ways can be felt as illustrative of two sides of life on the road not always in opposition — it's a setting, no two days the same, which Ray well knows can be both refuge to the afflicted and a fount of absolute chaos. Readers will be quick to see the careless and/or overwhelmed traveler in Ray's invocation of a nation of souls, and drivers, on anxious autopilot — "New cars speeding 'round the bypass. / Anxiety's at the wheel … going nowhere real fast. / Ain't nobody at the wheel."
The new tune's got both qualities, too, of a fashion. You can whistle it, but don't be too quick to feel too happy about it.
Ray moved to Nashville in 2012 with a significant other, who not all that long after decamped to Athens, Ga., just as his own music was starting to hit its stride in Guitar Town. Things "had just started working out for me" with a decent publishing deal and more, he says, so he stayed. "During the time that I wrote a good portion of" the forthcoming record, including "A Tune You Can Whistle," "I was making trips down to Athens" at a more-than-weekly frequency. "I'd go down there for a night," haul back and "go down there for another night, running myself ragged" on I-24, passing the big Tennessee Alabama Fireworks sign near the state line as many as 80 times in a single year.
The song, and the record, thus, were "born on that road," he says, with "all its landmarks and hollers and farms and the Cumberland plateau and Tennessee Alabama Fireworks and the big turn 'round the bend in Chattanooga. That became one of the epic drives of my whole life because of all the emotional stuff" with the, by then, failing relationship. At once, leaving Athens, rolling then back up toward Monteagle on I-24 by about the time he saw the Tennessee Alabama Fireworks sign he'd hit "such a sweet familiar calm, going back to my world, where things are reasonably peaceful and at least make a little bit of sense."
Since the release of his last "Sea of Lights" full-length record — Overdrive featured his video of the "Keep That Hammer Down" single at that time — Ray's embarked a project of singles releases, featuring duets. Three prominent releases, other than the first from the forthcoming record, include:
A cover of "Islands in the Stream" with Lilly Winwood:
"All Strung Out Like Christmas Lights," with Elizabeth Cook:
And "Saint Misbehavin'" with well-known chef Sean Brock, in Ray's words "the guy who took Anthony Bourdain to the Waffle House," as fans of Bourdain (rest in peace) and his well-known television show will recall: