Exclusive to Overdrive, this premiere of outlaw Americana musician and songwriter Boo Ray's "Keep That Hammer Down" video comes on the heels of Ray's release this year of the "Sea of Lights" record, where the song is featured. Recorded in Los Angeles following years of work with a base in the Southeast, the record follows Ray's move out west nearly a decade ago, which can be centered in the tradition of other Southern songwriters who've done the same over the years — Jerry Reid, Kris Kristofferson, Gram Parsons and more. And as regards trucking, Ray, who hails originally from Western North Carolina, is clearly of a piece with the culture. "My dad's handle was 'Stogie,'" he says. His own: "Honky Tonk Express."
Great trucking music he's got, particularly the hard-driving "Keep That Hammer Down."
For the video, cowriter Travis Porterfield produced and directed. "We went down to Muscle Shoals to shoot pictures with [friend and trucker] Cid Gardner's red Ford pickup and that new Peterbilt he's driving," Ray says. "Travis is a great songwriter and has a new album coming out soon. I think y'all will dig him too."
A brief Q&A with Ray follows.
Story behind "Keep that hammer down"?
I was talking on the phone with my friend Shawn Minor, who's a 21-time World Champion bronc rider, and fellow Olathe Boot Company endorser, and I think he might have actually signed off by saying "Crank up the radio and keep that hammer down." Shawn's a full-time bronc rider, I'm a full-time troubadour and it seems like a bunch of friends, whether they work production gigs or are touring musicians, they live a trucker lifestyle. It's more than a few buddies of mine that I have to contact before 5 a.m. because of the hectic lifestyle they live. Travis Porterfield wrote the song with me, and we were writing a song for all of our buddies out here making a living on the highway.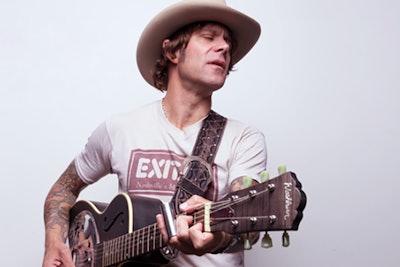 Personal connections to trucking?
I've got a few trucker buddies for sure. Taylor Workman's a good friend and brother of Matt Workman who picks guitars with me. "Freight Train" Christopher Floyd is a buddy and a harmonica player in Nashville that I work with, and my good buddy Cid Gardner is a full-time trucker/booking agent for country/Americana acts.
Top-five trucking songs of all time?
Don't know if I could narrow it down that far but here's five songs I've listened to in the last week or so:
"East Bound and Down"
"Six Days on the Road"
"Prisoner of the Highway"
"Colorado Kool-Aid"
"Driving My Life Away"
Find "Sea of Lights" via iTunes, Amazon and other retailers. Sample a few tracks via Boo Ray's website.