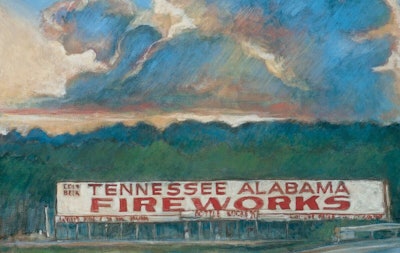 Boo Ray, recording artist here in Nashville, Tenn., in this edition of the Overdrive Radio podcast, talks music and personal history — particularly as it relates to his new record, "Tennessee Alabama Fireworks." The southern troubadour, a man with a definite affinity for all manner of highway haulers, adorned the record's cover with an illustration of an iconic scene for truckers who've made that I-24 run west toward Monteagle from points South and East.
The longer run between Athens, Ga., and Nashville – in a four-wheeler, mind you – took on plenty significance for Ray in the songwriting process for this new record.
Its first single was "A Tune You Can Whistle" – regular listeners and readers will recall Overdrive's story debuting the song late last year. I called it a "double-edged paean to the road" to the road at the time. In this edition of the podcast, you'll hear more about just why, including a brief excerpt from the song itself and other tracks on the record.
Before he took off from the office here Wednesday this week, too, he offered up four CD copies of "Tennessee Alabama Fireworks" – listen in for a way to be one of four listeners to get a copy sent to your doorstep or P.O. box. Without further ado, here's Boo Ray setting the stage on his Gibson acoustic: