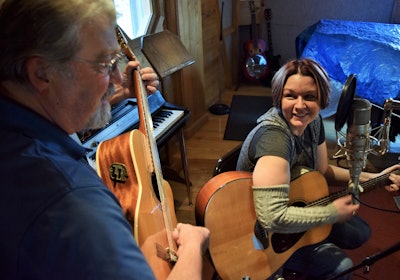 Following Twin Falls, Idaho, step-deck-toting independent owner-operator Mandi Jo Pinheiro's win at the 2018 Trucker Talent Search, Overdrive booked a March 20, 2019, recording session, part of the grand prize, at Nashville-based Jay Vernali's Jay's Place recording studio on Music Row.
Pinheiro — joined by her father, Urban Roger Brown, on a few tracks — ultimately laid down six tunes, including the "Heartbeat" song that was the winning talent-search performance at the Great American Trucking Show last year. Session player Wayne Killius provided drums on "Heartbeat" and other tunes, with Vernali filling out instrumentation with bass and keys. Pinheiro's guitar, "Waylon," and vocals were captured in the video above during her take-off on "Gentle on My Mind," running through a variety of scenes from the day.
Stay tuned for more from her in this week's edition of the Overdrive Radio podcast, set to see the light of day Friday.