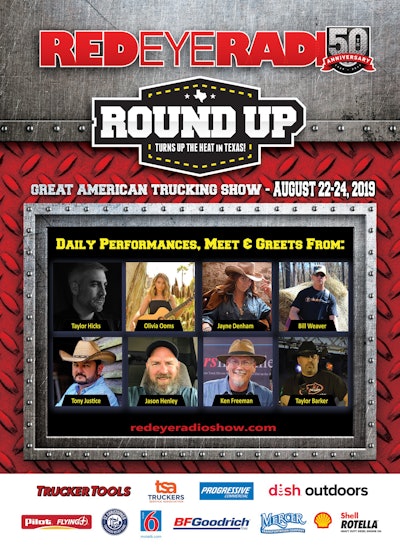 American Idol and Grammy Award winner Taylor Hicks will join Red Eye Radio at the Great American Trucking Show next month for a meet and greet with attendees.
GATS will be held Aug. 22-24 at the Kay Bailey Hutchison Convention Center in downtown Dallas.
Eric Harley and Gary McNamara, hosts of Red Eye Radio, will be onsite at the Red Eye Radio lobby booth, where a number of country music artists and celebrities will stop by.
In addition to Hicks' meet and greet appearance, RER will welcome Olivia Ooms, Jayne Denham, Tony Justice and Bill Weaver, along with Overdrive­-Red Eye Radio Trucker Talent Search finalists Jason Henley, Ken Freeman and Taylor Barker.
Visitors to the RER booth will also be able to register to win Uniden accessories and CB radios, GPS units and more. Sponsors of Red Eye Radio's activities are Trucker Services Association, Mercer Transportation, Pilot Flying J, Progressive Commercial Insurance, DISH Outdoors, BF Goodrich Commercial Truck Tires, Trucker Tools, The St. Christopher Fund, Shell Rotella and Motel 6.
Those interested in attending the 2019 Great American Trucking Show can register for free online here.