Trucking news and briefs for Wednesday, Jan. 27, 2021: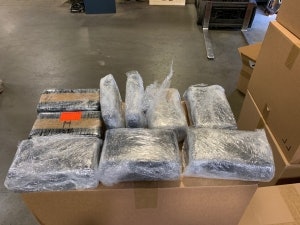 Team drivers arrested in Tennessee for marijuana, cocaine possession
Two truck drivers were arrested last week after Tennessee Highway Patrol officers found their load also contained 383 pounds of marijuana and 40 pounds of cocaine.
On Jan. 15, a trooper stopped a tractor-trailer for a traffic violation on Interstate 40 at the 101 mile marker in Henderson County, about 110 miles northeast of Memphis. As the trooper was performing a Level II inspection, he discovered possible indicators of criminal activity, according to a statement from THP.
Additional troopers were called to assist, and as troopers proceeded with the inspection, discrepancies and irregularities were discovered with the driver's shipping manifest, leading them to check inside the trailer.
Troopers examined several pallets and found one that was not indicated on the original shipping manifest. The pallet appeared to be professionally packaged with affixed shipping labels and wrapped with cellophane.
During the inspection, troopers opened 12 undocumented boxes to inspect the contents. The boxes contained 383 pounds of vacuumed sealed marijuana, and a smaller box contained 40 pounds of cocaine.
As a result, charges were filed in state court on both the driver, David A. Seville, 25, from Brooklyn, New York, and the co-driver Michael J. Blake, 57, from Jamaica, New York, for possession of schedule VI (marijuana) with the intent to deliver. A criminal complaint was filed on both men in federal court for possession of cocaine with intent to distribute.
New service aimed at providing an assist with ELDs' 'unassigned miles'
The Lytx company, provider of the well-known DriveCam camera systems, among other services, now offers an assist to carriers in dealing with unassigned miles recorded by their electronic logging devices. Unassigned miles accumulate when a truck with an ELD plugged in is moved and no driver is logged into the ELD. Reconciling unassigned-driving events has become a bear for many a small fleet owner, particularly those with maintenance staff and tight or off-site yards requiring vehicle movement when on-site staff forget to sign in and use the yard move function.
Lytx's "Unassigned Drive Time" service, available through its Lytx Compliance Services division to both current and prospective customers, is aimed at saving managers and/or owners time. The ELD rule requires a carrier to either assign unassigned miles in some way or to record an explanation for just why it can't be assigned -- otherwise, the records become a compliance risk during an audit or even at roadside.
The Lytx system accesses a fleet's ELD data to run the unassigned driving time report and uses that information to determine a probable driver. An assignment notification is sent to the driver to accept. If he/she declines, that triggers a notification to a manager for further investigation. An automatic report is generated and sent daily, which helps keep fleet managers informed and compliant, the company says.
California-based trucker named Highway Angel for helping distressed elderly woman
Christina Castillo, a Union City, California-based truck driver for TForce Logistics, has been named a Highway Angel by the Truckload Carriers Association for coming to the aid of an elderly woman who collapsed into the street during a health emergency.
Castillo was driving along a residential street in Castro Valley, California, on Oct. 1 when she saw an elderly woman walking along the sidewalk to her right. She noticed the woman was staggering and started holding onto fencing to regain her balance. The woman started walking again, so Castillo continued on to make her delivery at a nearby school.
She had another delivery on the same street and saw the woman again. "At that point, she took a few steps and then fell into the street," Castillo said.
She then turned around, put her hazards on and parked her truck in the road to black oncoming traffic. Castillo found the woman, in her late 70s, unresponsive.
"It was staggeringly hot outside, in the 90s," she said. "I thought she had heat exhaustion. Her breathing was very shallow."
She called 911, took her mask off and leaned in to see if the woman was still breathing. The woman was starting to turn blue, but the 911 dispatcher told Castillo to not begin chest compressions, as an ambulance was close by.
"When the paramedics arrived, they gave her oxygen and her color started coming back and her vital signs were very strong," Castillo said.
She later learned the elderly lady had suffered a heart attack, and that she passed away a few days later.
Castillo and her husband are independent contractors for TForce Logistics, which is a third-party carrier with Office Depot/Office Max.
For her willingness to help, TCA presented Castillo with a certificate, patch, lapel pin and truck decals. Her employer also received a certificate acknowledging their driver as a Highway Angel. EpicVue sponsors the TCA Highway Angel program.