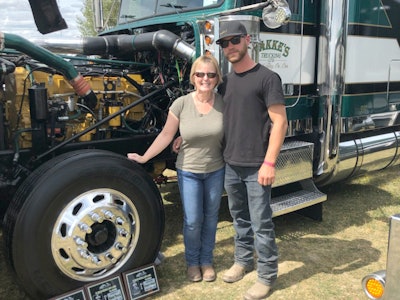 Radio host Big Al Weekley will feature bluegrass fan Barb Duncan, a 30-year driver who's survived breast cancer, on his Bluegrass Jamboree program Friday morning.
Weekley introduced Duncan last week and will finish her story on "Overdrive's Music to Truck By: Today's tunes from the men and women behind the wheel." The program airs from 10 a.m. to noon Eastern each Friday.
Duncan, a former computer programmer, is a driver trainer and runs between the U.S. and Canada. She works closely with Women in Trucking. She's also driven motor coaches and works for a travel agency time to time.
"Overdrive's Music to Truck By" features music by and about truckers on the show, as well as other country and bluegrass tunes. Weekly also airs news and music-related features from Overdrive.
The program can be streamed live from the home page of TheBluegrassJamboree.com. You can also listen to it via tunein.com and onlineradiobox.com or those sites' associated mobile apps. It can also be streamed through Bluegrass Jamboree mobile apps for Android and iOS devices.
"Overdrive's Music to Truck By" will be rebroadcast Wednesday, May 12, 1 a.m.-3 a.m. Each program is available for on-demand streaming for two weeks at Bluegrass Jamboree after the initial airing.