Trucking news and briefs for Thursday, June 10, 2021:
Win a Firebird, Coors beer in 'Bandit' contest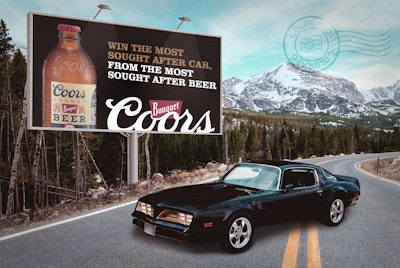 Coors Banquet is honoring its history by sending fans on a scavenger hunt for the car notoriously used to smuggle the beverage in "Smokey and the Bandit."
The brewer is asking fans to solve five clues that tie back to Coors Banquet's heritage and history and snap a selfie at each spot. The first person to solve the clues and find the keys will win the fully restored 1977 Firebird and Coors Banquet beer for a year (awarded as $500).
"Almost 150 years later, Coors Banquet is still brewed only in Colorado. To celebrate the brand's rich history and reward our adventurous drinkers this summer, we're giving fans a chance to seek out the ultimate prize – a '77 Firebird and Coors Banquet for a year," said Nigel Jones, senior marketing manager for the Coors Family of Brands. "It's the perfect way to kick-off summer and remind people that Banquet has been so coveted that in the past, it was literally considered to be contraband."
The contest is open to anyone 21 or older with a valid driver's license and will take place in Colorado. Participants can register here, and the hunt will begin Friday, June 11, at 7 a.m. Mountain Time, when participants will receive their first clue via email. The hunt will close once the car is found and an official winner is verified (or after 72 hours). There will be a QR code at each correct clue location – snag a selfie at the physical clue location, scan the QR code with your smartphone and you'll receive your next clue.
Those who can't be in Colorado for the contest can visit the company's Instagram for a chance to answer trivia and win a year's supply of beer.
Twin brothers recognized for helping at crash scene
Calvin and James (Corey) Williams, twin brothers from Port St. Lucie, Florida, have been recognized by the Truckload Carriers Association as Highway Angels for rushing to the aid of a couple whose vehicle veered off the road and into a ravine, crashing into a tree.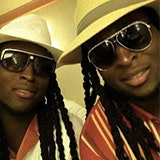 Around 4 a.m. on Feb. 21, Calvin was driving along I-44 near Bristow, Oklahoma, when a vehicle passed him at a high rate of speed, then veered off the road and disappeared down a steep embankment. Corey was in the sleeper, and the team also had a trainee, Allen Ford, with them.
Calvin parked the truck and woke Corey up while directing Ford to place reflectors out behind the truck. They then called 911 and rushed to the edge of the road to look down into a wooded ravine, where they saw a small fire about 300-400 feet from the road. They could hear people screaming for help, so they ran down to help.
"They hit a tree so hard it knocked the headlights out and pushed the motor and transmission into the cab," Calvin said.
The windows were broken out, and the brothers found a male passenger, conscious, lying on the ground with a serious leg injury. The female driver was about 30 feet from the vehicle.
"She was bleeding and shivering and couldn't move her legs," Calvin said. He also suspected she had a broken back. "She kept saying she had fallen asleep at the wheel. She looked like she was going into shock."
One of the brothers climbed back up to the truck to grab blankets, as it was only 23 degrees outside. Because of the area's remote location, it was an hour before the police arrived and another hour before the EMTs reached them. Unfortunately, emergency personnel had no way to reach the injured couple and bring them back up.
One of the brothers opened a tracking app on his phone and pulled up a detailed image of the area, finding that the crash scene was near an old dirt road but difficult to get to. It took the EMTs another 30 minutes before they finally reached the injured couple.
"I'm glad we stopped," Calvin said. "There aren't any houses back there. No one would have seen them from the highway. All I was thinking about was saving a human life. We didn't know what type of situation was down there. We didn't care."
For their willingness to help, TCA presented the driving team with certificates, patches, lapel pins and truck decals. Their employer, Armellini Express Lines, also received a certificate acknowledging their driver as a Highway Angel.
Love's ending mask requirement for vaccinated customers
Love's Travel Stops will no longer require masks for customers and employees who are fully vaccinated, beginning June 15. The mask requirement has been in place in Love's stores across the country since July 2020.
Non-vaccinated customers and employees will still be asked to wear masks, reflecting Centers for Disease Control and Prevention guidance.
"The past 15 months have been challenging for customers and team members, so we're pleased the country has made such great strides against the pandemic to get to this point," said Love's President Shane Wharton. "We will continue to be diligent about health and safety as ever before. We want to thank our customers for wearing masks in our stores and for the patience they've shown as we worked toward this decision."
Some cities, counties and states will continue to require all employees and customers to wear masks, and the company will abide by these requirements.
Continental Express raising driver pay
Continental Express is increasing pay for all company drivers, effective immediately. This is the carrier's second driver pay raise within the last year.
The new package includes a 2 cents per mile increase for over-the-road drivers, a 1 cpm increase for dedicated route drivers, and an additional $1 per hour for all local and hourly-paid drivers. The raise applies to current drivers and the starting wage for new drivers, bringing the annual start pay to $86,000, the fleet says.
In October 2020, Continental's OTR drivers saw a 3 cpm pay increase, and dedicated and local driver raises came in January.