Trucking news and briefs for Friday, June 18, 2021:
Canadian trucker honored for helping after witnessing accident
Bruno Filipe Da Costa Raposo, a truck driver from Montreal, Quebec, has been named a Highway Angel by the Truckload Carriers Association for stopping to help a young woman after her vehicle veered off the road in front of him and into a ditch.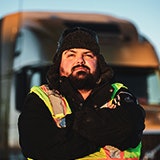 Raposo was driving down I-80 near Scott, Iowa, and was looking for a place to stop for the night. Conditions were poor with snow and ice on the roads. He had slowed down to 50 miles per hour when he saw a pickup truck trying to pass him in the left lane, which was covered in snow.
"When she was beside my drive axle, she started swerving so I slowed down even more," he said. "She was able to clear me, but when she passed in front of my truck her rear bumper was just five or maybe six inches from my bumper and then she veered off the road and went in the ditch."
He pulled over and saw the pickup had rolled over onto its passenger side. When he got out, he saw the woman already standing up in the cab with her feet on the passenger door.
"I told her to climb out the driver's window and then I told her to jump, but she was scared," Raposo said. "She had to jump down about six feet. I told her to jump and I would catch her. She was little, maybe 120 pounds, but I thought, 'Oh, this is gonna hurt,' but I caught her and then we both fell into the snow."
The young woman was uninjured in the crash, and Raposo let her wait inside his truck to stay warm while waiting for first responders.
This is the second time Raposo is being recognized as a Highway Angel. In August 2020, he saw a man sitting at the edge of an overpass near Amarillo, Texas. Raposo maneuvered his truck to divert oncoming traffic and then got out and talked to the man, empathized with him, and calmed him until police arrived and were able to convince him to move back from the edge of the bridge.
For his willingness to help, TCA has presented Raposo with a certificate, patch, lapel pin and truck decals. His employer, Bison Transport, has also received a certificate acknowledging their driver as a Highway Angel.
Cuban citizen pleads guilty to role in CDL fraud scheme
Marino Maury Diaz Leon, a Cuban citizen, pleaded guilty on May 21 in the U.S. District Court for the Western District of Texas to conspiracy to commit mail and honest services fraud in connection to a scheme to fraudulently issue commercial driver's licenses.
According to the indictment, from January 2017 through about June 30, 2019, Leon and two co-conspirators paid a Texas Department of Public Safety employee to falsely certify that CDL applicants had passed the skills portion of the CDL test. However, those applicants had either failed or had not taken the test.
The DPS employee provided Leon and a co-conspirator with temporary CDLs for the applicants, and DPS later mailed those individuals permanent CDLs. Leon is scheduled to be sentenced on Sept. 1.
New Love's opens in Georgia
Love's Travel Stops this week opened a new location in Albany, Georgia, off I-19, that offers 100 truck parking spaces.
In addition to parking, the store also features a Bojangles restaurant that opens June 21, seven diesel bays, five showers, laundry facilities and more.
The Albany location is the 16th Love's in Georgia.