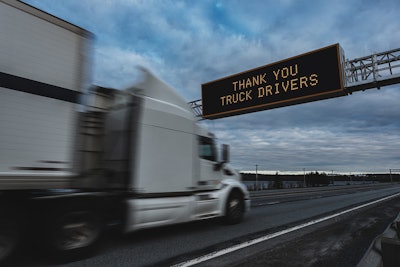 It's time to say thank you to America's truck drivers.
Through every season, truck drivers are hard at work.
Even on weekends and holidays, truckers keep the country rolling.
They spend weeks, even months, away from their families to supply the needs of the rest of us.
They battle traffic jams and weather daily, working to deliver the nation's goods on time.
Truck drivers are the true backbone of America.
Their difficult job is often overlooked, but it's time for a change.
The next time you see a trucker, recognize the tough work that they do by saying thank you.
Join us in thanking all of the hard-working truck drivers on the road today. They've earned it.
Happy National Truck Driver Appreciation Week from Overdrive!