Trucking news and briefs for Wednesday, March 2, 2022:
Mother's Day Convoy returns to full scale this year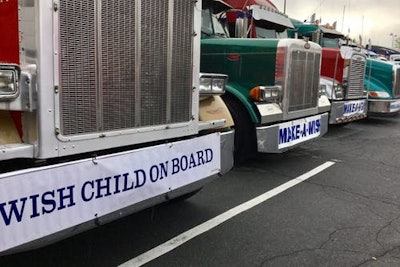 After two years abbreviated by the COVID-19 pandemic, Make-A-Wish Philadelphia, Delaware & Susquehanna Valley will hold its 33rd Annual Mother's Day Truck Convoy on Sunday, May 8.
The convoy was scaled back in 2020 and 2021 due to the pandemic and had moved to a new location after the 2019 event.
"We are excited to return this event to its full scope, including the convoy carnival, auction, an addition of food trucks, and an unlimited number of truck drivers this year," said Jennifer Davis, president and CEO of Make-A-Wish Philadelphia, Delaware & Susquehanna Valley. "We are counting on the local community, especially truck drivers, to make the convoy a success."
Funds raised at the convoy typically support more than 75% of the wishes granted in the Susquehanna Valley each year. Most of those funds are raised by participating truckers.
This will be the first year that a full convoy, including unlimited trucks and the carnival, will be held at the new location, Manheim Pennsylvania Auto Auction. With as many as 700 trucks expected this year, the parking available at Manheim Pennsylvania Auto Auction's huge lot will be appreciated, as drivers are eager to resume this Lancaster County tradition.
The carnival will open at 8 a.m., and includes games, music, costumed characters, food trucks and the trucks that will participate in the convoy. The convoy will depart Manheim Pennsylvania Auto Auction at 1:30 p.m.
There are several ways to support Make-A-Wish and to participate in the 2022 Mother's Day Truck Convoy:
Sign up to be a driver at wishconvoy.org
Watch from along the route to celebrate and cheer for the trucks as they go by
Participate in the online auction in which items will be available for bidding starting on May 1 and continue through May 8
Pickup Mother's Day chicken dinner and merchandise at The Country Table Restaurant in Mt. Joy
Make a donation to help Make-A-Wish reach its fundraising goal of $623,000
Since 1986, Make-A-Wish Philadelphia, Delaware & Susquehanna Valley has fulfilled over 7,500 wishes for local children with critical illnesses.
RoadPro Family of Brands is once again the presenting sponsor of the Mother's Day Truck Convoy.
Chevron acquiring renewable fuel company
Chevron announced Monday it has entered into an agreement to acquire Renewable Energy Group in an all-cash transaction valued at $3.15 billion.
The acquisition combines REG's growing renewable fuels production and feedstock capabilities with Chevron's large manufacturing, distribution and commercial marketing position.
"REG was a founder of the renewable fuels industry and has been a leading innovator ever since," said Chevron Chairman and CEO Mike Wirth. "Together, we can grow more quickly and efficiently than either could on its own."
The transaction is expected to accelerate progress toward Chevron's goal to grow renewable production capacity to 100,000 barrels per day by 2030 and brings additional feedstock supplies and pre-treatment facilities. After closing of the acquisition, Chevron's renewable fuels business, Renewable Fuels - REG, will be headquartered in Ames, Iowa.
Rolling Strong launches new medical recertification aid program
Rolling Strong announced a new free program, Ready Re-Cert, built specifically to educate and coach truck drivers about DOT physicals and what they can do to prepare for recertification of their CDL medical certificate.
"Ready Re-Cert is designed to assist drivers in preparing for their DOT physical by collecting and analyzing health-related metrics needed to predetermine their medical eligibility and identify any risk factors," said Stephen Kane, president of Rolling Strong. "Almost half of the drivers who need to recertify their medical certificate each year receive a short-term card indicating less than acceptable medical conditions. This is a serious issue that Ready Re-Cert helps resolve by allowing drivers to determine fitness, nutrition, hydration, sleep and other approaches to maintaining a healthy lifestyle, as well as work with coaches to set goals and benchmark improvements."
Drivers registering for Rolling Strong's new program receive encouraging reminders at 90, 60 and 30 days, and two weeks and two days prior to their next DOT medical exam. Drivers upload their medical card into the app and can use a comprehensive in-app checklist that provides support and education as they approach the exam.
Rolling Strong also partnered with Global Health Metrics to build the first DOT Pre-Check Health Risk Assessment (HRA). For $10, drivers can utilize the precheck assessment to identify their current DOT certification readiness. The analytics tool identifies risk factors and provides additional feedback on exam preparation. The app also allows access to CVS minute clinic DOT physicals at discount prices. Companies can implement the Pre-Check HRA and DOT physicals as part of a full Rolling Strong program.
For drivers who need extra care and attention while preparing for their CDL medical recertification, Rolling Strong offers Advanced Ready Re-Cert. With the program, drivers can benefit from extra coaching within the 90-day pre-exam timeframe and access a series of podcasts and videos that are targeted to address issues they may have based on current screening data and their last exam. If recent screening data is not available, Advanced Ready Re-Cert users can take a DOT pre-exam to spot check their current condition.
[Related: On-highway fitness coaching program for quick weight loss, or your money back]