Trucking news and briefs for Monday, Sept. 19, 2022:
New trucking convoy shows strong support for cancer patients
The first ever Truckers for Hope parade drew 83 trucks and raised $52,000 in South Boston, Virginia for the Halifax County Cancer Association to benefit their patients, the organization posted in the aftermath of the event on Facebook.
The event, held on September 10, included activities for kids and a big lunch before the convoy, including dozens of trucks with banners bearing the names of drivers' loved ones who had their lives impacted by cancer. The money will go directly to the HCCA.
Drivers convoy to raise money for the Special Olympics
Some 44 trucks took off from the Adams County Fairgrounds in Nebraska on Saturday morning, heading to the Bosselman Travel Center in Grand Island to raise money for the Special Olympics. In a return to tradition, and a sign of COVID worries easing, many of the drivers had participants from the games ride along with them in the cab, unlike last year.
"To know that they, they're ... having more fun than we are, and we're having a whole lot of fun so, it's just really nice to see the smiles on their faces," said one company driver for Walmart to the KSBN Local 4. Once at the travel center, the convoy turned into a cookout with associated events like raffles.
Wisconsin saw a pair of big-money fund-raiser events for the Wisconsin Special Olympics over the weekend, with more than 150 trucks on Saturday in the 18th annual Wisconsin Special Olympics truck convoy, traveling from from Fond du Lac to Oshkosh, local outlets reported. This year's event reportedly raised more than $100,000 for the charitable cause, on par with last year's haul.
Association highlights 'Member of the Month' Haleigh Fickett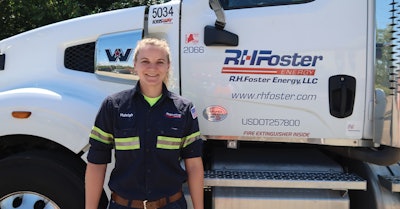 Maine-headquartered Haleigh Fickett has been a driver for R.H. Foster Energy for a little more than four years, after following in several family members' footsteps to get her CDL starting at a local technical school. She fell in love with driving and knew she had found where she belonged.
She's held her CDL for eight years but has only been actively driving for about five, due to difficulties getting hired at a young age with no experience. After obtaining her Class A at the age of 17, she spent a few years working on local farms and other jobs, while constantly applying for different professional driver openings. At the age of 20, she took a position working for the Maine Department of Transportation, which allowed her to get some experience driving plow trucks and other equipment involved in road maintenance.
Fickett jumped at the opportunity the following summer to begin her career at R.H. Foster Energy, with a newly minted hazmat endorsement to haul fuel mostly locally.
"Hauling fuel is a unique branch of the trucking industry, but one I find very exciting," she said. "It takes a lot of focus and caution to work with hazardous materials, but it comes with incredible benefits, such as being able to deliver to different locations every day and practicing driving skills in various situations that arise with delivering to public spaces."
Fickett competed this past May in the Maine Truck Driving Championship against some of the top tanker drivers in the state and ultimately took first place in the tanker division. As a result, she qualified for the National Truck Driving Championship and was able to compete against the top tanker drivers from across the U.S.
"If I could give any advice to other women interested in the trucking industry, it would simply be to never underestimate yourself," Fickett said. "I was nervous when I was getting started in my current position, because it is a very physically demanding job, but I have proven time and time again that if I truly put my mind to it, anything is possible."
[Related: 'Sisters of the Road' a haunting, iconographic portrait of professional truckers]