There are pieces of music that move me for ineffable reasons. I can't explain to you why "Small Time Laboring Man," by George Jones, can crack me open in a way that none of his other 134 singles released over a five-decade career ever could.
The answer might lie in a whole host of moving parts, including the composition itself, a co-write between Jones and longtime collaborator and drinking buddy "Peanutt" Montgomery, whom Jones would later shoot at after Peanutt found Jesus and became a teetotaler. Then there are the creative choices made by the Nashville A Team, that select group of session musicians who were hired to back Jones on the track, not to mention the plaintive moan in Jones's voice, all of which was then mixed, mastered and polished to a finish that enables the listener to see themselves in the reflection.
" Small Time Laboring Man" barely scraped the top 30 of the country charts, a big underperformer by Jones' standards circa 1968. But when Rolling Stone asked Bob Dylan for the best song written that year, the nod went to the George Jones working man's dirge.
In the same way, I can't very easily explain to you why "Sisters of the Road," by London-based celebrity photographer and author Anne-Marie Michel (who has some early roots in the U.S. as well), has moved and haunted me in the days since I've read it.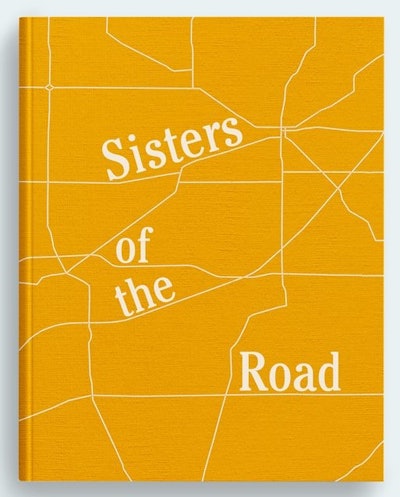 It's a photo book featuring forty women truck drivers, accompanied by distilled oral histories from each. The only explanation I can proffer is that perhaps it's in the very thing that distinguishes A Team session musicians, the type who were backing George Jones on the aforementioned song, from all the rest.
It's in the notes Michel chooses not to play.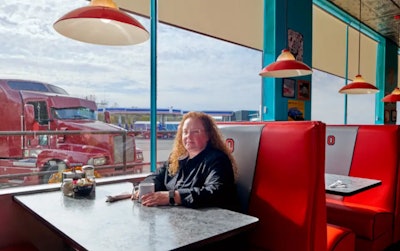 Bereft from "Sisters of the Road" are obligatory tropes of perpetual trucker victimology that have seemed to permeate nearly every published tome on this profession since 1980. Missing, as well, are Michel's own interjections on all that is wrong with "the industry." What surprises the reader in "Sisters of the Road" is that it stands on its own as a powerful homage of haunting, iconographic beauty to the fierce resilience of America's female truckers and the mythic spaces through which they travel.
I had the privilege of sitting down with Britain-based Anne-Marie Michel, albeit via Zoom and Gmail. Around five years ago she had made her mark as a professional photographer at the top of her game. Her assignments were a who's who of anyone with cachet on the international scene. Her images of personalities like Johnny Depp, Kate Moss and Angelina Jolie had been published in celebrity press outlets throughout the world.
She had a decade's worth of work shooting film festivals in Cannes, Rome and London. Still, she felt something was missing. As she told the tale, "One night I turned to my husband and said, 'I want to take photos that mean something to me.'"
Now the Londoner, who not long before was on assignment photographing Queen Elizabeth II, was bringing her craft to places like Lodi, Ohio; Dallas; and Sedona, Arizona, to truck stops, truck shows, anywhere she had to go to chronicle the lives of long-haul heroines. And not only those well-known to this publication like Idella Marie Hansen, Debbie Desiderato and Sharae Moore, but a myriad of others: Doreen Cummins, Kelia Keams, Lindsay Dweyer, the list goes on.
What unfolded next can best be summed up by Flannery O'Connor, who once famously observed, "I write because I don't know what I think until I read what I say." What began as just a photo shoot of a few female truckers grew into a passion, then a book, one she'd never originally contemplated.
What Michel came to realize in chronicling the lives of these 40 women was that she had stumbled upon 40 iterations of her own mother.
"In the summer of 1998," she opens with the prose section of her book, "my freshly divorced housewife mother drove my sisters and me across the country to start a new life. ... We drove 2,000 miles into a poverty we had never known existed; escaping one broken version of the American dream to follow our own. ... My mother's decision left an imprint on me that one can not only survive adversity, but thrive on it."
As she told me, "My mother was a prim and proper British woman who I'd never seen drive anywhere further than the grocery store. I was 14 then, and I didn't think she had it in her. But she made it through sheer force of will."
The family wound up in East Liverpool, Ohio, the veritable heart of the rustbelt.
"Sisters of the Road" offers the reader forty portraits of survival, accompanied by harrowing adversity as often as wonder and bliss. One narrator shares an attempted rape in the sleeper of her truck, which ends in the perpetrator losing his life. To wit: "It's not been an easy life. Especially not in the beginning. In 1991 I woke up in the middle of the night with a man in my bunk on top of me naked. That man didn't leave my truck. So it's definitely not an easy life."
Michel, said, "Once I had met a few of these women and heard their stories, I realized there were much bigger narratives and connections than I had anticipated. I felt I needed to do these women and their stories justice, and the book began to take form."
Another one of Michel's narrators, Carol Nixon, offered this account:
"I met a fellow female driver one day, she told me her husband was in kidney failure and he needed a kidney. I said, 'He can have one of mine.' She said, 'Are you kidding me? Nobody would do that for us.' I said, 'We only need one.'"
Michel's portrait of Nixon does homage to her limitless heart. She is seated at a diner somewhere, in stark relief with a dappled western sky, like a rockstar in repose. Annie Leibovitz could have done her no more justice: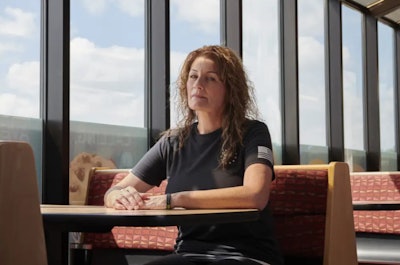 The sky and light become more of a motif in " Sisters of the Road" than chicken lights and chrome. And this manifests itself most when Michel makes her way to the American West.
"The American West is one of my favorite places on Earth," she wrote. "When I'm standing in the expansive vast landscapes, I experience a true feeling of freedom. It is as if my chest is filled with helium ... and as the vast landscape expands, I expand out with it."
No OTR driver could have described it better.
In the first half of the book, the reader is treated to a sequence of Michel's images that detail that expanse, from battered signage in sage fields, photos from US 50 in its most desolate stretches. Interspersed within these images are compelling portraits of her narrators, and sporadic stream-of- consciousness quotes like "I enjoy my own company" and "That's who I had to become in order to survive," all with strategic placement on their respective pages.
Somewhere in the second half the distilled personal accounts begin. They are stripped-down, sometimes to just a few sentences. It resonated with this gearjammer as an accurate depiction of how we remember the people we randomly meet on the road.
"I did really feel a connection to these women," Michel said. "I have a genuine interest in these women as individuals and I have deep respect and empathy for what they're doing. This project is so multilayered for me. At the base, I met and photographed 40 amazing truckers, documented their stories and made some great friends in the process.
"But I suppose, on an art/theoretical level, this could be seen as 40 portraits of my mother."
This one's going to be on my coffee table for a long time. Five stars.