Trucking news and briefs for Wednesday, Oct. 5, 2022:
Pilot Flying J unveils Road Warrior winners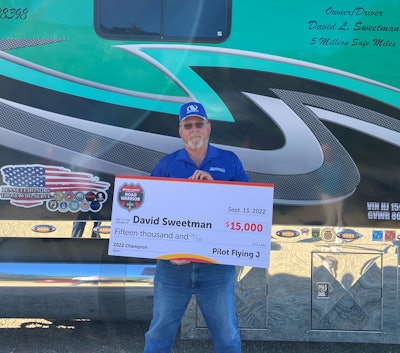 Pilot Flying J this week revealed the winners of its annual Road Warrior contest, which recognizes the hard work, dedication, commitment and sacrifice of professional truck drivers who go above and beyond to keep America moving.
After reviewing thousands of deserving nominations, this year's $15,000 grand prize winner is David Sweetman of Wilmington, Delaware. The $10,000 second-place winner is Jeffrey Thomas of Belews Creek, North Carolina. Inspired by the incredible stories received this year, Pilot Flying J for the first time in contest history determined it was a tie for third place, selecting Greg Hepner of Fayetteville, North Carolina, and Ron Rigdon of Tignal, Georgia, to win $5,000 each.
Grand prize-winner Sweetman is an Army veteran with more than 50 years and five million miles behind the wheel. He leases his rig to Bennett Truck Transport as a power-only hauler for concerts, stage events and equipment moves. He has also been a contributing writer and editor for various trucking publications for more than 20 years. During the COVID lockdown, Sweetman carried on, helping set up food banks, hauling generators for emergency hospitals and helping move generators, showers, and water treatment units for FEMA after several natural disasters across the United States' south.
"David is a great person with a tremendous set of core values while always being safety-conscious," said Tom Woodall, President of Bennett DriveAway. "It is rare to find drivers with not only his qualities but who have driven over a million miles safely while out on the road. We are very blessed at Bennett to have David."
Sweetman is also one of the original Trucker Buddy volunteers, working with classrooms to help educate young students across America. Through reading, writing and mentorship, Sweetman and others help encourage future generations of truck drivers through tales of the road and showcasing how essential trucking is to the economy and our way of life.
"One of the great things about the project is that it gives us, the people traveling the country, a chance to share not only what we do, but it teaches school children, who've maybe never left their hometown, where produce in the supermarket comes from; it comes from trucks," said Sweetman.
To recognize his contributions and further the work of Trucker Buddy, Pilot Company surprised Sweetman during his award ceremony at the Bennett Family of Companies with a $15,000 donation on his behalf to the organization.
"David, a founding driver of Trucker Buddy when Gary King started the program, has been showing students a positive image of the trucking industry for over 30 years," said Randy Schwartzenburg, assistant treasurer and former executive director of Trucker Buddy. "We appreciate companies like Bennett and Pilot for working with us to encourage young students to excel in school and to bring education from the road to the classroom through the lens of a truck driver."
Pilot Flying J's second-place Road Warrior winner, Jeffrey Thomas, is the independent owner-operator of Joly American Enterprises, LLC, a Marine veteran and driver trainer with more than 35 years of experience.
Third-place winner Greg Hepner has spent 30 years and more than three million incident free miles behind the wheel covering 38 states, 17 foreign countries and three war zones and currently drives for Tidewater Transit Company.
The other third-place winner, Ron Rigdon, is an Army veteran, father and grandfather who currently operates a 53-foot race car hauler across the country for Parella Motorsports Holdings. Rigdon also started and operates Santa's Toy Run, a toy drive and fundraiser dedicated to providing toys and funds to children in need.
Landstar owner-op wins new truck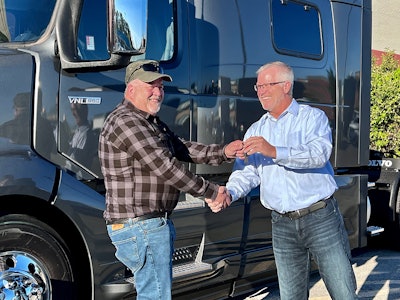 Landstar-leased owner-operator Tony Green, of Swayzee, Indiana, is the winner of the 2022 Landstar Deliver to Win Truck Giveaway.
Green won a 2023 Volvo VNL64T 860, including registration and fees, in the annual giveaway held on Sept. 29 in Carmel, Indiana.
Green was one of five finalists attending BCO Appreciation Days randomly selected from the contest's pool of eligible business capacity owners (BCOs), Landstar's term for leased owner-operators. The giveaway was held at the end of the two-day event, which featured networking opportunities, educational business development sessions, and news and updates from Landstar.
"Honestly, the last thing I expected when I came for the event was to be the winner of the truck," said Green. "I was shocked when I was announced as a finalist. I was even more shocked and in disbelief when I won."
Green has been leased to Landstar since 2009 and currently owns and operates a 2006 Peterbilt 387. After seeing his new metallic gray truck, he shared, "This new truck is going to make a huge difference for me. I'm sure it will be more efficient and comfortable. And I love this color. My current truck is about this color, and so is my pickup truck. It was meant to be mine."
Throughout the year, eligible Landstar owner-operators automatically earn entries in the Deliver to Win Truck Giveaway contest by delivering loads safely during the contest period. They also have opportunities to earn additional entries by attending safety meetings and participating on Landstar's monthly Safety Thursday conference call. After the contest period ends, all entries are pooled and finalists are selected by a computerized random number generator. Finalists must be present at the giveaway to win.
Action announced in two HHG moving fraud cases
The Department of Transportation Office of Inspector General recently announced action in two cases involving household goods moving fraud.
On Sept. 13, Lola Larios was sentenced to three years of probation, including one year of home detention and a $100 special assessment for her role as an employee of a number of New Jersey-based moving companies. Larios was also ordered to forfeit $282,634 to the United States.
According to OIG, between January 2016 and January 2019, Larios conspired with the moving company's owner to regularly extort customers by quoting "low-ball" estimates for moving household goods. Once the goods were loaded onto the moving trucks, company employees, Larios, and others directed company employees to raise the moving price to double or triple the quoted estimates and to refuse to deliver the goods until customers paid the higher prices.
Then on Sept. 15, Avraham Zano and Sofein Mlayah, owner and employee of Zano Moving and Storage, LLC, were indicted by a federal grand jury in the Southern District of Florida for conspiring to steal household goods from victims who hired the company for interstate moving services. Further details on the case were not made available.
Truck driver pleads guilty to defrauding Social Security Admin.
Truck driver Dwayne Bent pleaded guilty on Sept. 21 in the U.S. District Court for the Eastern District of Pennsylvania to wire fraud.
According to DOT OIG, Bent was indicted in July in connection with a scheme to defraud the Social Security Administration in order to obtain disability insurance benefits (DIB) by false and fraudulent pretenses.
In October 2014, Bent submitted an application for SSA DIB and was approved in January 2017 with a retroactive disability date of May 21, 2013. From March 2017 through August 2019, Bent collected more than $200,000 in SSA DIB payments while concealing from SSA two successful DOT medical examinations in 2016 and 2018.
Bent received medical examiners' certificates in 2016 and 2018 that deemed Bent physically qualified to drive a commercial motor vehicle, including across state lines, in accordance with the physical qualification standards and with no medical restrictions.
In addition, Bent concealed employment as a driver from SSA.