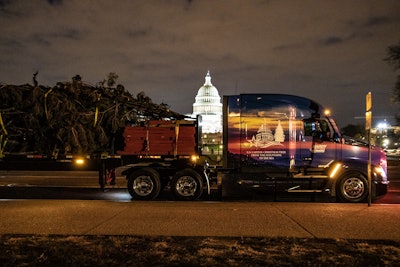 James Edward Mills
For husband-and-wife driver team Ed Kingdon Jr. and Deb Kingdon, the opportunity to move the 2022 U.S. Capitol Christmas Tree from the Pisgah National Forest in North Carolina to Washington, D.C., is a career highlight.
"When I retired from the military in 2018, Deb and I decided to begin careers in something we could do together since our kids were grown," said Ed. "We love to travel the country and saw truck driving as a job we'd enjoy. Never in our wildest dreams did we think we'd be the ones responsible for delivering the U.S. Capitol Christmas Tree to D.C. Christmas is such a special holiday to our family, so to have shared this experience with our kids and grandkids who visited the community celebrations as we made our way to the capital was truly memorable."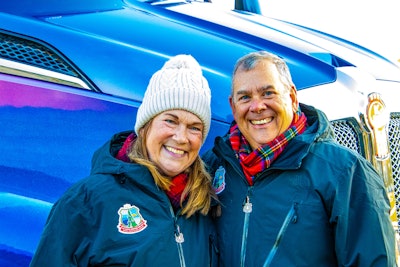 Hardy Brothers Trucking, the official U.S. Capitol Christmas Tree Tour carrier, selected the Kingdons, who have driven for the company for more than four years. This year, Deb became the first female driver to help transport the special tree to Washington, D.C.
"It was an honor to be selected as one of the drivers and become the first woman driver to haul the U.S. Capitol Christmas Tree," she said. "It was an experience of a lifetime."