Almost the entire stretches of Interstates 80 and 25 in Wyoming closed on Tuesday, and remained closed as of Friday, as yet another winter storm hammered the state and once again produced dramatic video footage of what happens when mother nature simply gets the best of us.
Currently, authorities don't expect I-80 to reopen until Friday evening. I-25 remains largely closed and isn't expected to fully reopen until Thursday night.
The Wyoming Highway Patrol posted the following video showing an out-of-control truck sideswiping a police cruiser and nearly taking out a trooper as they stopped to assist another vehicle.
"Troopers were in the area working other previous crashes," Sgt. Jeremy Beck told Overdrive of the video. "The driver lost control due to driving too fast for the conditions, entered the median, and luckily did not collide" with the troopers, though the truck did hit the police car.
"The patrol continues to encourage motorists that if you're driving on hazardous road conditions, please slow down," Beck added, stressing that when "driving at a slower speed, you're more likely to come to a stop or be able to move your vehicle around any issues on the roadway."
I-80 in Wyoming has been an on-again-off-again interstate since January with multiple closures, sometimes closing just hours after reopening as white-out conditions, snow and ice make the road impassable.
In addition to I-80 and I-25, Beck reported multiple secondary roads closed due to a storm that isn't over yet.
For the most up-to-date information on road closures in Wyoming, check the state's 511 page here.
Road conditions on I-80 have become such a headache through the years that the state's legislature has discussed rerouting the interstate between Laramine and Rawlings. Local media, however, suggested the project's estimated $12.6 billion cost would make the move untenable.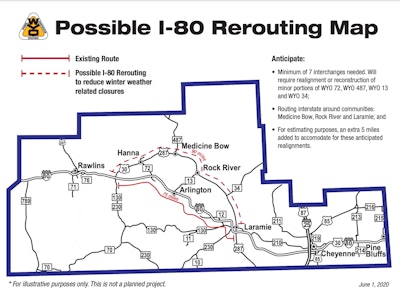 Doug McGee, a spokesperson for Wyoming's DOT, said "there's often discussions, especially after a difficult winter season," of rerouting or finding alternate routes for "bad weather days" along I-80, especially the Laramie to Rawlins pass, but that it's all currently "theoretical," and nobody is seeking funding now.
"Wyoming is essentially a 400-mile long mountain pass -- the average altitude is 6,000 feet. You won't find that anywhere else on I-80," said McGee. "The summit, near Telephone Canyon, is over 8,000 feet, so the consistently high altitude combined with long low temperatures and sustained high winds -- those three things combined to create a really difficult challenge."
McGee said that at that altitude, even without fresh snow, I-80 can white out in an instant.
"It can snow here and two weeks later there's no fresh snow falling but hundreds of miles of high altitude prairie with low moisture snow," he said. "If a wind event comes along" it can "grab all the old snow from two weeks ago and create visibility problems, drifting, icing, and we end up closing it for winter conditions."
McGee said drivers sometimes lose their cool when I-80 closes without any fresh snow, and that drivers accustomed to I-80 in Iowa, for example, wouldn't be accustomed to the high elevations.
Despite the near miss with a trooper, McGee said Wyoming's DOT is thankful for truck drivers. "We certainly appreciate the truckers," he said. "Our economy rides on those wheels."
Additionally on Wednesday, stretches of I-15 were closed in Montana and Idaho.
[Related: Roads 511: Highway information in real time]