A while back, during my brief foray as a milk hauler after decades of door swingin', I had a tank of organic milk bound for a small cheese manufacturer in rural Wisconsin. Still a diehard fan of human directions and a downright devotee of the civility that is embodied in small-town Wisconsin, I phoned the cheese plant and asked the nice young lady what might be the best way to get to her facility.
"We are located at 123 Main Street, [name withheld], Wisconsin," she said matter-of-factly.
"So what would be the best way to get in there out of Madison?"
She answered in that young hipster kind of way, with the upper inflection at the end of the sentence -- like she was asking a question while making a statement.
"Actually … we … don't give directions to our facility? Most of our drivers just use their GPS? Do you not have a GPS?"
For just a second I contemplated the unalloyed satisfaction it would give me to flip the raving old trucker lunatic switch and go completely unhinged. Something like: "I've been out here 37 years and you are the first person who has not had the common decency ... !" etc. There's nothing quite like a scolding prefaced by how long one has been "out here."
[Related: Call me 'Long Haul' no more ...]
But it just wasn't worth it. Besides, I've never had to apologize for something I thought about saying, but didn't. Then there was the small matter of eating daily and needing to keep my job. So I bit my tongue, took a deep breath, and responded thusly:
"Yes, ma'am. I have a GPS, but I still appreciate competent human directions."
Then that little voice just kind of told me it was time to shut up immediately and politely conclude the call. So I did.
"Has the advent of GPS and other technologies permanently altered our sense of social obligation toward one another?" --Long Haul Paul, posing the $30 question
With my wife Jumper in tow, we arrived at the cheese house the next morning and brought our paperwork to the lady who answered the phone. Her hair was as blue as a Berry Blast Powerade. But to my surprise, she was very pleasant in person, quite lovely in truth, not the little monster I had conjured on our trip North.
"There's a couple trucks ahead of you, but it shouldn't take too long," she said.
There was a sign on the wall with the prices of the various provolones they made there, and Jumper gave me that look. Jumper loves provolone. Everyone loves provolone.
We went back to the truck and waited our turn. There were a couple local tri-axle milk haulers ahead of us. These were grizzled and rough men, the kind you don't see every day on the super slab. They were lumbering around like injured football players in Carhartts, their bodies buffeted by decades of dairy route work and the surge of multiple tons of milk ramming the bow of the smooth-bore tanks they ferried from farm to farm.
Not having pulled a milk tanker for long, I asked out loud," I wonder if I'll be walking like that some day? That would be kind of cool, but kind of not."
[Related: Mild winter gives way to tough decisions this COVID-19 season]
When my turn came, the folks in the intake were some of the nicest I'd ever encountered. I was so green to hauling milk, I didn't know anything about dissembling and sanitizing the pump, which they gladly showed me. The boss made sure to tell me I was welcome to wash my entire truck using the soap and pressure hoses they provided.
"We love seeing the vessels that haul our ingredients to be their cleanest," he explained. All in all, these were really some of the kindest people I'd ever encountered in trucking. They just didn't give verbal directions.
"Maybe to her, I was the equivalent of that mega-fleet truck broke down on the side of the road." --Long Haul Paul
All Jumper could talk about was getting in on the ground floor of that provolone power buy. It was Christmastime, and we were heading to a family gathering as soon as we were empty. "Wonder how much it would be for one of those big sticks of provolone?" she said.
It was an unseasonably mild December day. My head was beginning to clear, the old orneriness dissipating. I thought of something my brother Jay told me once about how technology changes who we are, socially. I am blessed to have siblings who frequently tell me things I hadn't previously considered. As I've aged, I've come to regard this as one of my life's purest blessings.
Has the advent of GPS and other technologies permanently altered our sense of social obligation toward one another? I mean, think about it. You're on a busy interstate and you see a mega fleet truck on the shoulder of the road, its hood raised, reflectors out. Do you feel any compunction whatsoever about just grabbing the left lane and breezing on by? Come on, be honest. You know that driver is going to be OK. She's got a cell phone, an electronic log with other communication capabilities. Her company knows her exact latitudinal and longitudinal coordinates. Besides, even if you were a scratch mechanic, would you have the diagnostic equipment necessary to get that truck going?
Maybe you inquire over the CB, "Hey driver, are you OK?" but maybe you don't because you figure that rig isn't even running a CB.
"I brought some extra money, honey. It would be nice to have some cheese to take to your dad's," Jumper said.
For some reason, we always wind up taking cheese to my dad, who lives in Wisconsin, the irony of which isn't lost upon the old man:. "Son, you're carrying coal to Newcastle," he'll say. But he still eats the cheese.
So we eased back into the office and asked Miss Berry Blast how much a big stick of provolone would set us back. They were all priced by the pound, and none of the pieces weighed the same amount. This piece came to something like $33. I don't remember the exact price. All I remember is that it was a really good deal. But: we didn't have the exact change, and neither did our new friend.
"That's OK. You can just have it for $30," she said.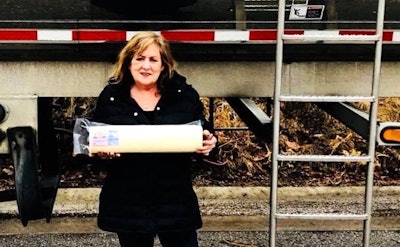 There is a business advantage to being civil. I was glad I had bitten my tongue the day before. Turns out she was a nice person. Maybe her sense of social obligation had been formed with the technology she'd grown up with.
Maybe to her, I was the equivalent of that mega-fleet truck broke down on the side of the road.
Or maybe, just maybe, she simply didn't know how to give directions other than providing a street address. When it's all said and done, I'll take no directions over bad directions any day.
Everyone at my dad's said it was the best provolone they'd ever had.
My venture into milk hauling is all but over for now. I lasted about two years, off and on. As I write this, I'm backed up to a dock in Salt Lake City. It's 2:40 a.m. Mountain Standard Time, and I can't quite go back to sleep. There are no pumps to wash, no hoses to throw. That milk hauling is too much like work.
Once a door swinger, always a door swinger, I guess. But man, I miss that provolone.
[Related: Owner-operator back home hauling Chicago containers finds the niche, long-term, more lucrative than OTR]