Trucking news and briefs for Thursday, June 8, 2023:
When and where is the riskiest driving occurring?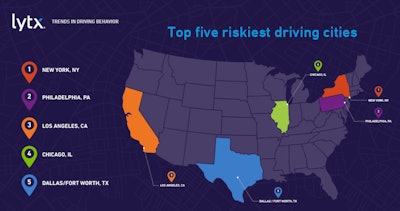 Results from a new study show major metropolitan areas -- especially near their airports -- are some of the riskiest places to drive in the U.S. It also found the times of day and night when collisions are expected to occur.
Video safety and telematics firm Lytx recently released its fifth annual "State of the Data" report for trucks and vehicle fleets. Leveraging the Lytx Driver Safety Program and more than 36 billion miles of new driving data (over 221 billion miles total) captured through Lytx's DriveCam Event Recorders, 2022 showed a decrease in overall risky driving even as miles driven increased.
While many of 2021's riskiest driving cities remained in the top five, Atlanta improved to number seven, while Dallas/Fort Worth entered the top five. New York remained number one for the second year in a row.
Top five riskiest driving cities:
New York
Philadelphia
Los Angeles
Chicago
Dallas/Fort Worth
According to Lytx, the top five riskiest public roadways include:
Michigan (I-94 at Merriman Road, Romulus) -- A complex airport interchange
New York (George Washington Bridge near Riverside Drive, NY) -- The world's busiest vehicular bridge
California (Edom Hill Road and Varner Road, Desert Hot Springs) -- A lack of lane markings
New Jersey (NJ19 and I-80 in Paterson) -- A complex interchange, with highways terminating into city streets
Connecticut (I-95 near Fulton Terrace, New Haven) -- A curved freeway entering the busy port of New Haven
Airports have emerged as some of the nation's most dangerous driving areas. Fourteen out of 30 of the highest-risk sections of public and private roadways were within two miles of airports in 2022, Lytx found, which was up 86% from 2021, when eight of the top 30 highest-risk roadways were near airports.
The top five high-risk airports to drive around include:
Denver International
John Glenn Columbus International
Phoenix Sky Harbor
John F. Kennedy International
Newark Liberty International
"Airports likely stand out as having among the more dangerous roadways due to several factors, including the high number of intersections and transitions, the high percentage of drivers unfamiliar with the routes, the high concentration of cars, and of course, hurried or distracted behaviors such as looking at mobile phones," said Kyle Warlick, Senior Client Intelligence Analyst at Lytx.
The time of day also impacts the likelihood of a collision. The survey found that, in 2022, the highest total number of collisions occurred during the daytime hours (6 a.m. to 4 p.m.), with the most occurring at 11 a.m. Alternatively, the highest collisions per vehicle (those on the road at each hour) occurred in the middle of the night (2 a.m. to 6 a.m.) with 2 a.m. the most likely time for a collision.
Even the day of the week impacts the likelihood of a collision. In 2022, the highest collisions per vehicle occurred on Tuesdays. Saturdays were the safest day of the week, with the lowest collisions per vehicle. Sundays were the second lowest. Lytx said this suggests that high weekday commute traffic very closely correlated to higher numbers of collisions and was further supported by weekend lows.
Maybe somewhat surprisingly, though conditions-driven complacency could be driving the metric, most collisions happen in clear weather, often due to animal strikes. Only 13.1% of collisions occurred during rainy weather, while 83.9% occurred in clear conditions. Only 2.9% of collisions occurred in snow, and 0.1% in fog. Animal strikes accounted for 29.7% of the collisions in clear weather and 9.4% in rainy conditions. In contrast, fixed objects accounted for 11.7% of accidents in clear conditions and 16% in rainy conditions.
[Related: Wyoming the most dangerous state for truckers?]
Volvo Autonomous Solutions starts operations in Texas
Volvo Autonomous Solutions (V.A.S.) has opened an office in Fort Worth, Texas, dedicated to driving activities to set up its first autonomous freight corridors that will run from Dallas-Forth Worth to El Paso and from Dallas to Houston.
To prepare for commercial launch, V.A.S. has also started to haul loads with trucks using drivers for key customers like DHL and Uber Freight to test aspects and establish frameworks and procedures for safe and reliable operations.
"At Volvo Autonomous Solutions, we believe the path to autonomy at scale is through reducing the friction and complications around ownership and operations for customers," said Nils Jaeger, President of Volvo Autonomous Solutions. "This is why we have taken the decision to be the single interface to our customers and take full ownership of the elements required for commercial autonomous transport. With the opening of our office in Texas and start of operational activities, we are building the foundations for a transport solution that will change the way we move goods on highways."
The Autonomous Transport Solutions (ATS) offered by V.A.S. includes hardware, software and services required to run autonomous transport operations. On highways, the solution is operated based on a hub-to-hub model where autonomous trucks take on the highway portion of the driving, operating all hours of the day and night between transfer hubs while human drivers complete local operations.
[Related: Calif. bill requiring drivers in autonomous truck advances]
New 'Haul of Fame' exhibit showcases classic pickups in Georgia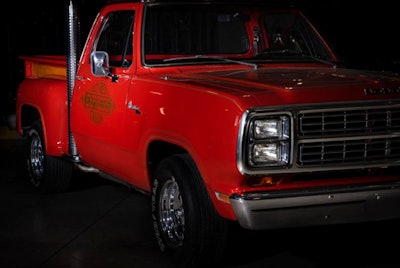 Perfect for truck-history enthusiasts, a new "Haul of Fame" temporary exhibition opened June 6 and will run through October 1 at the Savoy Automobile Museum, 3 Savoy Lane in Cartersville, Georgia. The exhibit showcases more than eight decades of American pickups with model years from 1909 through 1990, including the classic pictured here. Others showcased, all from the Savoy collection unless otherwise noted:
1909 IHC Auto Wagon (on loan from Jeff and Angie Chattin of Canton, Georgia)
1932 Ford Model 18
1936 Chevrolet Standard FC Coupe
1936 Dodge LC half-ton
1941 Ford

(on loan from Patrick Hergenroeder, Richfield, Ohio)

1955 Chevrolet Custom Cab Stepside
1958 Chevrolet Apache Fleetside

(on loan from Steve Biddy, Biddy Classic Cars, Acworth, Georgia)

1960 Ford F-100 Custom Styleside
1965 Ford F-100 Custom Cab Styleside

(on loan from Deborah and Larry Crane, Cartersville, Georgia)

1979 Dodge Li'l Red Truck

(pictured above, on loan from Mark and Dorina Coates, Blountville, Tennessee)

1989 Dodge Shelby Dakota

(on loan from Connie and Cecil Mann, Cartersville, Georgia)

1990 Chevrolet C1500 454 SS
The Savoy museum is open to the public Tuesday-Sunday, from 10 a.m.-5 p.m. Admission is complimentary for members, $15 for non-members 13 and older, $5 for youth 3-12, complimentary for younger children and active military with ID. Find more information via the website.
[Related: The top 10 trucking songs of all time]