Trucking news and briefs for Friday, June 30, 2023:
Driver arrested in California after 95 pounds of suspected meth found in trailer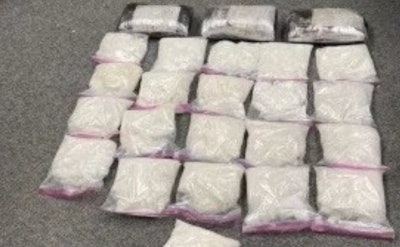 California Highway Patrol officers earlier this week arrested a truck driver after a drug-sniffing dog identified 95 pounds of suspected methamphetamine in a tractor-trailer.
The driver was detained after being stopped on northbound Interstate 5 at about 12:15 a.m. Wednesday, June 28.
During the routine traffic stop, the CHP officer noticed what police called "several indicators of criminal activity." The officer called for a drug-sniffing dog, which gave a positive indication of the presence of drugs in the trailer, where four suitcases containing the drugs were found.
CHP said the driver was booked into Kern County Jail on suspicion of possession of methamphetamine for sale and transportation of the drug across noncontiguous counties.
[Related: Towing company's catalytic converter theft ring busted: DA]
HHS: Still no approved oral fluid drug testing labs
In a notice set to publish in the Federal Register Monday, the Department of Health and Human Services is notifying federal agencies of the laboratories and Instrumented Initial Testing Facilities (IITFs) currently certified to meet the standards of the Mandatory Guidelines for Federal Workplace Drug Testing Programs using urine or oral fluid.
As previously reported, the Department of Transportation on June 1 officially authorized oral fluid drug testing as an alternative to urine testing for truck drivers. However, in order for an employer to implement oral fluid testing under DOT's regulation, HHS first has to certify at least two laboratories for oral fluid testing, which has not yet been done.
In its update publishing July 3, there are still no labs certified for oral fluid testing, HHS said. "At this time, there are no laboratories certified to conduct drug and specimen validity tests on oral fluid specimens," the notice said.
So, as it was on June 1 when oral swab testing was authorized by DOT, it still can't be implemented until HHS issues its approvals: at least one lab to test primary samples and at least one more to re-test contested samples.
[Related: Oral fluid drug testing approved by DOT]
Transflo and Assured Telematics merge
The Transflo mobile and business automation software provider announced a merger with Assured Telematics Inc. (ATI), a provider of fleet management solutions. The merger will combine the strengths of both companies to deliver an "end-to-end solution suite and a densely connected technology ecosystem" particularly useful to fleet customers looking to increase efficiency and reduce costs, the companies said.
"We are excited to integrate the extensive capabilities of ATI into the Transflo ecosystem," said Renee Krug, Transflo CEO.
Frank Pellitta, President of ATI, will keep his title and take on the added role of Chief Telematics Officer of Transflo. He will continue to lead the ATI business unit and Telematics for the combined company.
ATI's customers include fleets in the Class 8, government, construction and private fleet space.
[Related: Transflo aims to combat 'app overload' and increase utility for independents with brokers]
New Love's opens in Colorado
Love's Travel Stops this week opened a new location along I-70 in Parachute, Colorado.
The new location is about 44 miles east of Grand Junction and offers 50 truck parking spaces.
Also on offer from the store are Chester's Chicken and McDonald's restaurants, seven diesel bays, five showers and more.