Trucking news and briefs for Tuesday, July 4, 2023:
TikTok distraction partly to blame for driver's crash that killed five, police say
A truck driver involved in a collision that claimed the lives of five people was using TikTok at the time of the crash earlier this year, according to police.
Danny G. Tiner was arrested last week and charged with numerous counts stemming from the Jan. 12 incident that occurred on Interstate 10 in Chandler, Arizona, near Phoenix. The 36-year-old was charged with five counts of manslaughter, four counts of endangerment, and one count of tampering with physical evidence.
A statement from the Arizona Department of Public Safety said Tiner "was traveling 68 mph in the posted 55-mph construction zone and was actively using the TikTok application on his cell phone at the time of the collision."
He originally told police he received a message on his electronic work tablet and acknowledged the message. According to the statement, Tiner said when he looked back up traffic was stopped, and he could not stop his vehicle in time to avoid a collision.
In their incident report, state troopers determined Tiner failed to stop for congested traffic, rear-ended two passenger vehicles, and wedged them into the back of a second commercial truck. The second truck was pushed forward and struck two additional cars.
The two passenger vehicles crushed between the semi-trucks caught fire. The fire spread to Tiner's tractor-trailer and to the second truck's trailer.
[Related: The ugly truth about screens and driving]
Michigan, Daimler partner to build 'truck stop of the future'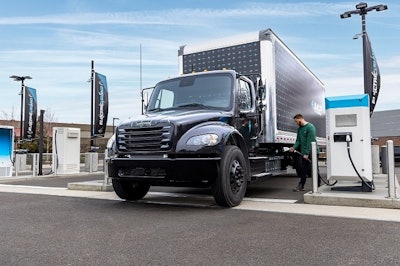 The state of Michigan last week said it is taking part in a prototype program to help companies to transition fleets to electric commercial vehicles (EVs) and will test new technologies, digital services and business models designed to accelerate deployment of commercial EVs at scale while modernizing the truck stop experience.
Michigan will have access to $13 million in funding to support development of the Mobility Charging Hub and secure partnerships with companies aiming to test and implement solutions related to EV innovation, fleet management and overall ease of travel. Initial project partners include Daimler Truck North America (DTNA) and DTE Energy.
[Related: Battery-electric Cascadias recalled for electronic stability system issues]
"Freight trucks drive commerce, deliver goods and connect businesses throughout the nation, which is why it is critical to prepare this industry for the future," said Michigan Lt. Governor Garlin Gilchrist II. "Our Mobility Charging Hub will help more companies electrify their fleets, cement Michigan's leadership in the future of freight, and rebuild our transportation infrastructure to support the economy of tomorrow."
Located at DTNA's multi-acre Redford facility near I-96 -- a location that sees more than 10,000 medium- and heavy-duty commercial trucks travel daily across the state or across the state's borders into Canada -- the site is already equipped with the necessary power, making it an ideal location for the Mobility Charging Hub. The program will also support passenger vehicle charging.
In the first phase of development, the core infrastructure to support EV charging at the site will be established as a foundation. DTE will operate the core infrastructure of the Mobility Charging Hub -- including EV charging solutions, solar canopies and battery energy storage systems -- and will look to partner with third-party operators for value-added services.
After successful demonstrated usage and commercial viability in the first phase, Michigan's Office of Future Mobility and Electrification (OFME) and its partners will work to enable the Mobility Charging Hub as a platform for testing innovation, similar to sites like the Detroit Smart Parking Lab, Michigan Central, and the FLITE Program at Gerald R. Ford International Airport.
With $8,500,000 in federal funding support from a Rebuilding American Infrastructure with Sustainability and Equity (RAISE) grant award to Michigan's Department of Labor and Economic Opportunity, Michigan's OFME will also establish a grant program through the Mobility Charging Hub that will help fund future activations onsite.
It's unclear how much truck parking will be available at the location once it is built.
[Related: OEMs hoping California's zero emission funding model expands to other states]
New service area along New York State Thruway offers amenities for truckers
The New York State Thruway Authority recently announced the new Clarence Service Area on Interstate 90 westbound at mile marker 412 is now open to the public.
The location is the eighth new service area to open to Thruway customers as part of the $450 million project to redevelop and modernize all 27 Thruway service areas. The Ardsley, Plattekill, Clifton Springs, Iroquois, Indian Castle, Chittenango and Junius Ponds Service Areas have reopened.
The Clarence Service Area has more than 14,000 square feet and is the first to reopen that offers separate amenities for commercial truck drivers. Trucker amenities include:
Separate entrance
Lounge
Showers
Lockers
Restrooms
Washer and dryer
The Clarence location also offers restaurant options, including Burger King, Popeyes, Dunkin', Applegreen C-Store and Taste NY Food and Drink Products.
Four level 3 high-speed EV chargers will be available soon. The NYS Thruway Authority said its service area revamp project includes plans for increased truck parking and high speed diesel at select locations.