Trucking news and briefs for Monday, July 24, 2023:
Canadian cargo theft ring busted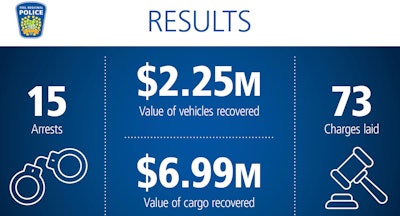 Police in Canada last week announced the results of a months-long major cargo theft investigation in the greater Toronto area.
Peel Regional Police said its Project Big Rig resulted in 15 arrests with 73 charges, recovery of $6,990,000 of stolen cargo and $2,250,000 in stolen tractor-trailers for a total of $9.24 million in recovered property.
Police said the stolen cargo included food, ATVs, and snowmobiles. They also recovered 28 stolen tractor-trailers, many of which were stolen when thieves cut through fences at logistics facilities.
"Cargo and auto theft is not a victimless crime. It hurts people, inflicts financial harm and often leads to the funding of other criminal activity," said Peel Regional Police Deputy Chief Nick Milinovich. "Project Big Rig is an example of our efforts to hold the individuals accountable who victimize our communities and residents. Let this be a reminder to all the criminal networks that we will continue to disrupt criminality of any kind."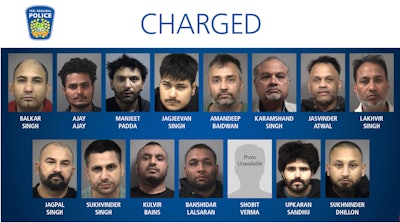 I-17 rest area reopens with expanded truck parking
A major rest area on Interstate 17 in Arizona has reopened following numerous upgrades including expanded truck parking.
The Sunset Point Rest Area is open after the Arizona Department of Transportation upgraded its restrooms, water and septic systems, truck parking, and other amenities. It was closed to most traffic in late 2022 for the project.
Sunset Point is located along I-17 at mile marker 252 between Black Canyon City and Cordes Junction north of Phoenix.
To enhance capacity and accessibility, the $7.5 million project included renovating and reopening the original restroom building that had been closed since the new restroom building opened in 2010, said ADOT.
There were also improvements to signage, sidewalks, lighting, and landscaping, along with renovated ramadas. Restrooms have new or upgraded lighting fixtures, doors, sinks, hand dryers, and more.
The project also renovated the rest area's sundial memorial, which honors ADOT employees who have died while serving the state of Arizona.
Sunset Point Rest Area serves more than a million visitors a year, according to ADOT.
Because of Sunset Point's popularity and location, ADOT offered a temporary I-17 rest area nearby at Badger Springs Road throughout the renovation. The Badger Springs temporary site will now be closed. Sunset Point also was open to commercial vehicle traffic, with limited services, during the renovation.
FMCSA names new Chief Counsel
The Federal Motor Carrier Safety Administration last week announced Brian Stansbury as the agency's new Chief Counsel. In this role, Stansbury will work closely with and advise the FMCSA Administrator and senior staff on all aspects of legal policy for agency programs.
He will lead a team of more than 50 attorneys responsible for providing legal support on budget, procurement, fiscal law, ethics, personnel and employment matters.
Stansbury brings more than 20 years of experience in the transportation industry, advising automotive companies and manufacturers. "Brian has a proven track record of strong leadership and brings a wealth of experience," said FMCSA Administrator Robin Hutcheson. "We are lucky to have his insight and dedication as we work to enhance roadway safety across the country."
Prior to joining FMCSA, Stansbury was a partner at King and Spalding LLP, where he served as a member of the firm's Environmental, Health, and Safety practice.