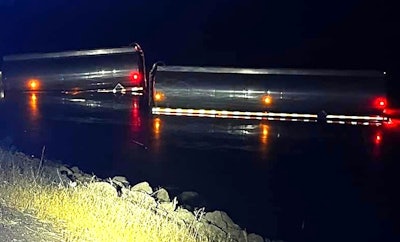 Sherman County Sheriff's Office
Updated, 1:11 p.m. Central time, as Oregon DOT got closer to reopening I-84 WB:
The evening of Friday, August 25, two separate incidents on the same stretch of I-84 Westbound in Oregon saw separate sets of tractors pulling doubles -- vans in one instance, empty tankers (as shown above) in the other -- take a swim in the Columbia River. Westbound I-84 closes this morning at 7 a.m. local time, Monday, August 28, for removal of the rigs, estimated reopening time unknown.
The news release about the closure spells out the exact location -- at Biggs Junction, milepost 103, where Westbound lanes will shut entirely. The lanes will be closed from Biggs Junction to Celilo for at least a few hours, while special equipment, including a large crane, removes the trucks from the river.
[Related: Truck driver takes a swim after crashing into reservoir]
Westbound traffic can use the Old Highway 30/OR 206 route that runs parallel to I-84 to detour and get back onto I-84 at Celilo. Traffic can also use U.S. 97 to cross the river at Biggs Junction and travel west on State Route 14 in Washington, returning to I-84 via the U.S. 197 bridge at The Dalles.
The length of the closure will depend on the complexity of the recovery. Until the recovery starts, ODOT noted, "we won't know if any of the semis are stuck on rocks or other debris in the river. We know this is an important route and will work as efficiently as possible to re-open the interstate."
The Sherman County Sheriff's Office told local station KOIN that mere hours separated the two separate crashes Friday night, happening on the relatively short section between the Sam Hill Memorial Bridge and Miller Island. Both drivers, fortunately, escaped without injury, the office added.
[Related: Major hurricane forecast brings state of emergency to Florida]