That's a Big 10-4 on D.C. returns for its 6th year on the National Mall for a day of public outreach and fellowship among participating drivers and owner-operators Thursday, October 12, following a set-up day at the Frederickburg, Virginia, fairgrounds the day prior. Organizer Fred Bowerman urges early registration for participants to help preparations for the escorted convoy into D.C. in the wee hours, as well as Friday and Saturday catered BBQ lunches back in Fredericksburg.
That's right, after the October 12 events on the Mall, the convoy heads back to the fairgrounds for further fellowship/entertainment Friday and Saturday, a donation drive for the local food bank, and more.
On the Mall this year, among the usual visits from and conversations with regulators and legislators, as well as individual meetings participating operators take with their representatives in the nation's capitol, Bowerman notes Kenworth will be on hand as part its 100th-anniversary celebration with a variety of classics.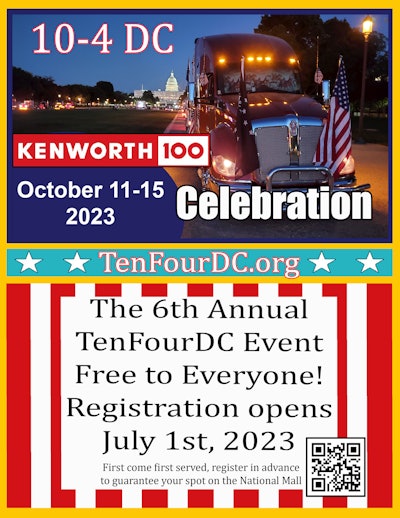 In past years and no doubt again for what's essentially a truck show on the Mall, it's been owner-operators themselves who've showcased a variety of working Kenworth models as part of their own personal histories. Several have been featured in Overdrive's Custom Rigs series:
Finally, if you've never been on hand for the roll-out from the Mall, the following "Sundown symphony" from the 2020 event could well give you at least a little audio-visual idea of what to expect:
Find more information about the event via this link.