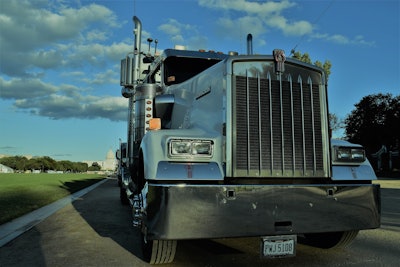 Fostoria, Ohio-based owner-operator Todd Graham runs principally himself in a 1999 Kenworth W900 but brought this 2003 model to the National Mall in Washington, D.C., during this year's "That's a Big 10-4 on D.C." event.
His motivation? As with some of the other attendees on the Mall this year — a slightly smaller, shorter event than in past years given the COVID-19 pandemic and other factors — Graham's advocacy efforts around trucking are not a new thing for him, having taken part in the 10-4 event in past years. Nor is his approach to the business, tried-and-true traditional in a sense as he performs around 80 percent of his own maintenance, while leasing his power units to another carrier in the region and employing a driver.
The 2003 is powered by a 500-horsepower Cummins ISX with an 18 Speed, and came from the factory with KW's then "Glory & Pride" trim package. This rig's are set up with utility in mind, with a Thermo King TriPac providing no-idle power and plenty interior amenities to bring comfort to downtime on the road. Hear all about, and catch plenty views of it from the National Mall, via the video at the top.