Trucking news and briefs for Wednesday, Oct. 25, 2023:
Two more sentenced in New Orleans staged-accident scheme
The U.S. Attorney for the Eastern District of Louisiana has announced the sentencing of two more individuals for their roles in a widespread scheme to stage crashes with tractor-trailers and defraud trucking and insurance companies as a result.
On Sept. 27, Joseph Brewton 57, of Houma, Louisiana, was sentenced to 18 months in prison, to be followed by three years of supervised release, on one count of Conspiracy to Commit Mail Fraud. Brewton was also ordered to pay $554,638.73 in restitution.
According to court documents, Brewton was a passenger in a staged collision in August 2015. After the crash, he recruited family members and friends to participate as passengers in other staged collisions with tractor-trailers on March 27, 2017, and May 11, 2017.
The passengers in these collisions filed fraudulent lawsuits falsely claiming that the tractor-trailers were at fault. Through this scheme, Brewton caused a loss of approximately $392,742.77.
On Oct. 24, Roderick Hickman, 52, of Baton Rouge, Louisiana, was also sentenced, following a guilty plea to Conspiracy to Commit Mail Fraud,. Hickman was sentenced to 3.5 years (42 months) in prison and ordered to pay restitution of approximately $5.7 million. He will also be on supervised release for three years following his prison sentence.
According to court documents, on March 27, 2017, Hickman, along with four other defendants, intentionally collided with a tractor-trailer at the intersection of Chef Menteur Highway and Downman Road and then fled the scene.
Hickman was referred to attorneys who paid him and another co-defendant to stage the accident. In some cases, the attorneys knew that the participants were uninjured but referred them to medical providers for treatment to increase the value of subsequent lawsuits. In total, the victim trucking and insurance companies paid out $277,500 for these fraudulent claims.
[Related: Nuclear verdicts threat rolls downhill to small carriers, owner-operators]
Tonnage hauled by trucks dipped in September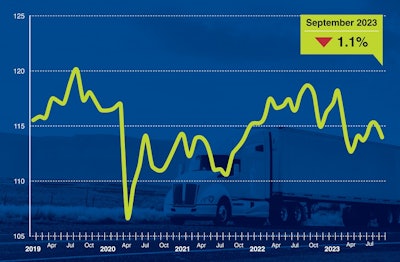 The American Trucking Associations' advanced seasonally adjusted (SA) For-Hire Truck Tonnage Index decreased 1.1% in September after rising 0.2% in August. In September, the index equaled 113.9 (2015=100) compared with 115.2 in August.
"After hitting a bottom in April, tonnage increased in three of the previous four months, gaining a total of 2.2% before September's drop," said ATA Chief Economist Bob Costello. "However, this freight market remains in flux, and the index contracted by 1.1% in September, which erased half of those gains."
Costello also noted that a 4.1% year-over-year decrease from September 2022 "was the largest drop since November 2020." Last September, however, was the previous cycle high, he added. "While it is likely a bottom has been hit in truck freight tonnage, there could still be choppy waters ahead as the freight market remains volatile."
The year-over-year decrease in September was the seventh straight for the index and was the largest over that period. In August, the index was down 2.4% from a year earlier.
The not seasonally adjusted index, which represents the change in tonnage actually hauled by the fleets before any seasonal adjustment, equaled 112.5 in September, 6.8% below the August level (120.7).
[Related: How owner-operators can avoid joining the 'capacity reduction' ranks]
OOIDA set to host annual Truckers for Troops campaign
The Owner-Operator Independent Drivers Association will launch its 16th annual Truckers for Troops campaign next month with the goal of raising funds to send care packages to service personnel in combat zones.
In addition to serving active-duty military members, the campaign extends its reach to various U.S. veterans facilities, particularly those aiding wounded, disabled or homeless service members.
Over its 15-year history, OOIDA has raised more than $729,000 and sent over 3,200 care packages, benefiting more than 39,252 military personnel. OOIDA has also provided aid to 65 different veterans-aid facilities.
This year's campaign will run Nov. 6-19. During the campaign period, new and renewal OOIDA members will be given a choice to use either the 50-year anniversary special for a two-year membership or a $35 discounted price for one year. Ten percent of the amount paid will go towards the Truckers for Troops fund. OOIDA will then match the 10% dollar for dollar.
The $35 one-year membership is a savings of $10 off regular $45 yearly dues. The two-year membership for $50 is a savings of $40 and it is available until 12/31/23. The $35 membership price will remain in effect two weeks only.
Individual tax-deductible contributions to the Truckers for Troops fund are also welcome and can be paid to the OOIDA Foundation, a 501(c)3 non-profit corporation.
To contribute, join or renew during the campaign, those interested can call OOIDA's main number, 816-229-5791, and let operators know you're interested in the Truckers for Troops campaign. Drivers can also join OOIDA online or directly donate at Truckers for Troops donation page.
Family or friends of U.S. military members can send care package addresses to [email protected]. For those who wish to send cards and letters, the address is:
Attention: Truckers for Troops, P.O. Box 1000, Grain Valley, MO 64029. Please exclude last names or other personal information. Packages typically go out in January or February, while veterans packages are sent throughout the year.