Trucking news and briefs for Thursday, Nov. 9, 2023:
Sky-high cargo theft trend continued in third quarter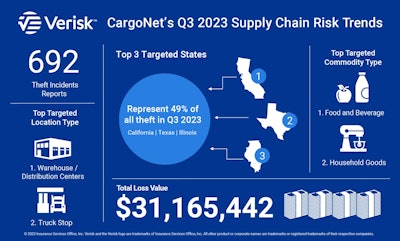 Cargo theft recording firm CargoNet reported Thursday that it recorded 692 events across the United States and Canada in the third quarter of 2023, a 59% increase when compared to the same period in 2022.
Like in the second quarter of 2023, much of the increase is due to ongoing shipment misdirection attacks, a kind of strategic cargo theft in which thieves use stolen motor carrier and logistics broker identities to obtain freight and misdirect it from the intended receiver so they can steal it.
In total, thieves stole over $31.1 million in shipments in the third quarter of 2023.
During that period, reported thefts increased in every event category. Documented strategic cargo theft events increased 430% year-over-year, and theft of a loaded conveyance such as a full trailer increased 4% year-over-year. These kinds of thefts were most common in California, Texas, Florida, Georgia and Illinois.
CargoNet also recorded a significant increase in the "other" category, which combines several categories of reports like identity theft complaints, hostage loads, late shipment complaints, and other kinds of criminal intelligence records.
[Related: Senators, Reps call for OIG task force on double brokering/other freight fraud]
Going into the final quarter of 2023, there is no indication that cargo theft activity will slow in the domestic United States, the firm added.
"We anticipate that strategic cargo theft will remain at unprecedented levels of activity throughout the quarter," CargoNet said in a press release. "We caution the industry that throughout this year, strategic cargo theft rings have picked up activity around holiday periods."
CagoNet noted that theft groups are also targeting a wider range of commodities, including truckload shipments of metals, such as copper, brass and aluminum; apparel, especially officially licensed sports apparel; and shipments of personal care and beauty products.
The firm also cautioned that "strategic cargo theft groups continue to pioneer new methods of strategic cargo theft that seek to evade common compliance practices used by logistics brokers."
They have reportedly increased perpetrating fraud against small motor carriers or owner-operators with intent of hijacking their accounts or convincing them to solicit shipments from brokers on their behalf. Both strategies seek to evade identity theft checks a broker may do prior to tendering a shipment.
[Related: 3 double brokering scams that can result in the theft of more than just money]
New driver-assistance features now available on Kenworth T680s
Kenworth recently announced the latest iteration of its Advanced Driver Assistance System (ADAS) is now available for Kenworth T680s.
The enhancements are part of the Bendix Fusion system and feature Adaptive Cruise Control (ACC) Stop and Auto Go.
When a truck follows a lead vehicle in cruise control, this enhancement enables the system to apply braking to maintain a safe following distance and will bring the truck to a complete stop, if necessary, and will hold the truck in place. When the truck can move forward, it will automatically accelerate to the vehicle set speed without driver intervention and maintain a safe following distance.
In the event a truck departs the roadway, the new Highway Departure Braking to Zero feature will provide an audible chime and apply braking to reduce vehicle speed if the vehicle begins departing the roadway. In some circumstances, the system may reduce the vehicle speed to a full stop until the driver re-engages.
"Driver assistance systems play a key role in making commercial trucks easier and less fatiguing to operate," said Jim Walenczak, Kenworth assistant general manager for sales and marketing. "These new features will complement safe driving behavior and provide drivers more convenience operating in cruise control."
In addition to these new features, Kenworth is building upon its previous driver assistance system offerings with improved Adaptive Cruise Control, Autonomous Emergency Braking (AEB), and more. Kenworth's ADAS driver technology suite includes Collision Mitigation, Lane Departure Warning, and Side Object Detection.
[Related: Are FMCSA, NHTSA skirting Congressional directive with AEB mandate?]
Truck tonnage expected to grow nearly 3B over next decade
New projections released this week by the American Trucking Associations show the amount of freight hauled by trucks will grow to 14.2 billion tons by 2034, up from the current estimated 11.3 billion tons hauled by trucks today.
ATA Chief Economist Bob Costello said the "trucking industry continues to dominate the freight transportation industry in terms of both tonnage and revenue, comprising 72.2% of tonnage and 79.2% of revenue in 2022."
While the actual tons of freight moved by trucks is expected to increase over the next decade, the percentage of freight hauled is expected to remain flat, ATA found, rising only slightly from 72.4% of the freight tonnage in 2023 and 72.6% of tonnage in 2034.
ATA does expect trucking's revenue to grow, however, from $1.01 trillion in 2023 to $1.51 trillion in 2034, which will account for 78.8% of the freight market.
Freight forecasts for other modes, according to ATA:
As coal and bulk petroleum shipments wane over time, rail carload tonnage will fall from 11% of total freight to 10.1% by 2034
Rail intermodal revenues will grow from $21.7 billion in 2023 to $35.2 billion in 2034
Air cargo tonnage will grow from 17.6 million tons this year to 23.7 million tons in 2034
Pipelines will see their share of freight tonnage grow from 9.8% in 2023 to 10.4% in 2034