In a letter to the Department of Transportation Inspector General Eric J. Soskin dated May 22, 2023, five U.S. Senators and three House reps urged Soskin to work with the Department of Justice and the Federal Motor Carrier Safety Administration to explore a permanent task force policing fraud in brokered and other freight markets. The notion of such a task force I first heard proffered by transportation attorney Hank Seaton, whom regular Overdrive readers will well recall from his years of advocacy for clients and analysis around various legal matters.
The Senators and House reps' letter explicitly addresses the issues of organized double brokering and other freight fraud and its rise in prominence in the spot market over many years, particularly the last couple.
The letter urges DOT IG Soskin to work with the Department of Justice and the Federal Motor Carrier Safety Administration to explore a permanent task force dedicated to issues of fraud in brokered and other freight markets. There's something of a model for this, furthermore, insofar as the FMCSA and OIG are in fact originating, collaborative entities in a variety of identity-fraud cases that have ultimately been prosecuted, as the letter notes, likewise the long-ongoing effort to combat household-goods-movement scams and other crimes.
Here's the nut of what the Senators and Reps are requesting (you can download the full letter via this link):
Recognizing the continued growth of various forms of cargo theft and other supply chain crimes and building on the success of individual efforts there is an opportunity to establish a permanent task force within OIG to monitor freight, household goods moving, ransom, and double brokering fraud or address other cases of supply chain fraud that falls within OIG's jurisdiction and to investigate and prosecute fraudulent activity consistent with existing civil and criminal penalties. We urge OIG to consider creating a special unit within the Inspector General's office in consultation with FMCSA and the DOJ to investigate, refer and prosecute cases of transportation fraud in a systematic, concerted manner. Forming a special unit for this purpose at OIG appears to be consistent with OIG's authority.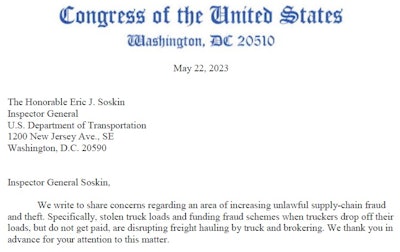 If that notion sounds familiar, it's pretty close to what attorney Seaton has proposed in both official comment to the FMCSA as well as in conversation with me. The letter to IG Soskin references this story, for instance, in Overdrive, published in the wake of the comment period around FMCSA's dispatch-service interim guidance last year. Seaton there, as well as in our conversation for this edition of the Overdrive Radio podcast weeks earlier, outlined the basic idea above.
Commenting on behalf of a coalition of carriers, brokers and shippers and their respective groups (including the National Association of Small Trucking Companies), he urged establishment of a "permanent task force to monitor complaints about fraudulent and intentional breaches of regulations by regulated brokers and carriers [with a] proactive prosecutorial staff to discharge its statutory and regulatory duties to enforce existing rules of commerce, including civil and criminal penalties available to the Department of Transportation."
The same coalition, also including the Western States Trucking Association, Apex Capital and the Air & Expedited Motor Carriers Association, among others, also recently underscored its support of the notion of a task force, commenting to the full House Transportation and Infrastructure Committee.
[Related: FMCSA needs a 'cop on the block' fighting brokered-freight fraud]
Since last fall, the issue of double brokering has gotten the attention of many more in the trucking world, as individual cases of theft and issues with FMCSA's registration system have reared their heads, among other things. Jason Decker of brokerage General Transportation and carrier ART Trucking, based in Van Buren, Arkansas, spoke to all of these issues himself in the final event of the Mid-America Trucking Show's educational series, calling double-brokering a veritable "cancer" in the spot market whose implications just ripple out into wider trucking, gathering momentum to a wave.
Crucially, Decker offered up an estimate of what the various scams -- the old fuel-advance scam, related broker and carrier impersonation/identity theft schemes, the same aimed at actual cargo theft, the rings of FMCSA-registered carriers and brokers with authority working together to double-broker freight just to skim various amounts out of the load -- had cost his business just in the past year: "half a million," he said, between the brokerage and trucking companies.
The National Association of Small Trucking Companies, leaning into the efforts that led the recent letter being written and delivered, marshaled a letter of support circulated among lawmakers in D.C. that included the signatures of more than 300 NASTC member companies, including many independent owner-operators. "Criminals are becoming more brazen" in the spot market, the NASTC letter of support noted, and "most cases go uninvestigated and unprosecuted. ... This crime spree will only continue to get worse until existing antifraud laws are effectively, consistently enforced."
It urged lawmaker support for the push for a task force, which ultimately was led by U.S. Sen. Mike Braun (Indiana) and Rep. Mike Bost (Illinois), both Republicans. Also offering their support as signatories were Sens. J.D. Vance (Ohio), Deb Fischer (Nebraska), Rick Scott (Florida) and John Thune (South Dakota), likewise House Reps. Chuck Edwards (North Carolina) and Lance Gooden (Texas), all Republicans.
[Related: 'WTFFMCSA': Carriers mocking the agency through its own registration system?]
Broker group the Transportation Intermediaries Association also signaled its support of the particular effort. TIA head Anne Reinke, while fully aware of the problem of double brokering and other fraud -- she told me back in March that it was the No. 1 issue TIA heard about from its members -- initially was a little reticent to get behind the idea of an OIG special task force.
Yet this morning she said that "the proponents of this effort persuaded us that it was worth a shot. Ultimately, TIA would prefer for the FMCSA to marshal its authority to prevent fraud." She noted the agency is working on ways to do that more effectively but that, as she understands it, "the timeline is long-term, as opposed to short-term. In the interim, perhaps a fraud task force could help address and arrest the fraud explosion brokers, carriers, and shippers are experiencing."
Among other trucking groups, CDL Drivers Unlimited cofounder Jim Heffernan said earlier this week that CDLDU was preparing an awareness campaign directed at lawmakers around double brokering and other fraud and its rapid acceleration "aided and abetted" by technology, he said. "Technology has moved ahead without checkmates" to prevent bad actors manipulating the market.
The Owner-Operator Independent Drivers Association, too, has urged more action on double brokering. In a March letter to FMCSA, the group spelled out the increasingly problematic nature of the issue, among others, and urged "more federal oversight ... to monitor these fraudulent entities, restrict their brokering authority, and eliminate increasing instances of double brokering."
Resources around the issue:
**More ways to vet brokers to combat fraud, double brokering
**Double brokering scams that can result in the theft of more than just money
**Fight double broker fraud: Prevention, elevating enforcement
**FMCSA/DOT getting serious about double brokering schemes?
**How can you tell you're working with a double broker?