It's been a "little bit hectic up here" this week, said House Rep. Mike Collins, first-term Congressman representing Georgia's 10th district and part proprietor of the Collins Trucking fleet out of Jackson, Georgia. Collins joined owner-operator Shawn Mitchell and trucker John Grosvenor, also a CDL Drivers Unlimited council member, Wednesday evening on their Truckers Independent Broadcasting Network livestreamed show. Collins fielded calls from drivers amid ongoing debt-ceiling negotiations and just one day after he was part of the mark-up session in the House Transportation and Infrastructure Committee Tuesday, clearing several trucking-related bills for further debate and a potential vote on the House floor.
Those bills included measures to dedicate a specific amount of funding to states for truck parking projects, grease the skids for CDL test-takers, boost participation in the Federal Motor Carrier Safety Administration's under-21 interstate pilot program, establish a carrier-selection standard for brokers and shippers when it comes to carrier vetting, and more. (Read about all the bills that cleared House T&I via this report, if you missed it.)
[Related: Truck parking funding, weight flexibility bills advance in House]
Hectic is not a strange condition for Collins, though. "Good hectic," he said. "In our [trucking] business, it's 24/7 anyway. The past few years our sons have been running" Collins Trucking, "so I'm glad to be back in the fight."
Collins emphasized issues of the need for greater Congressional oversight of federal regulatory agencies, the litigious nature of business in America today, and more throughout, on a week in which he joined others in the call for rollback of the Environmental Protection Agency's latest Phase emissions regulations.
"These federal agencies have gotten out of control and we need to rein them in," Collins said. "They just cram stuff down our throats with no regard to what it may actually cost trucking."
Collins referenced the derating of diesel engines experiencing emissions-systems problems as an example. "Instead of derating my truck because a sensor went off," he said, why not take a different approach that utilized technology for enforcement? "Don't derate me where it's unsafe" on the road, then necessitating a very costly tow in some cases due to little more than a faulty sensor. "The way they overreach and overregulate is just so apparent."
Collins is a cosponsor of the January-introduced Regulations from the Executive in Need of Scrutiny (REINS) Act, which would codify a requirement for Congressional approval of any rule promulgated by the executive branch that is determined to have a major economic impact, with some exceptions.
Critics of this approach to major new regulatory initiatives, such as the Public Citizen advocacy group, view the rule as redundant and needlessly altering the separation of powers among the branches of government. "Congress already participates in the rulemaking process by writing and passing federal law that provides the blueprint for agency actions," that group noted. "Any agency error or misinterpretation is subject to judicial review. The REINS Act attempts to dramatically alter the separation of powers by allowing Congress to veto executive actions."
Yet given the raft of potential new rules impacting trucking in particular (those EPA Phase 3 rules and FMCSA's speed limiter push both were mentioned in this context in the discussion), Collins feels it's the right way forward. "We signed onto" the REINS Act "as soon as we got up here," he said.
As noted, Collins is new to the House of Representatives, though his 2022 campaign in Georgia wasn't his first. Very-longtime-regular readers may well recall Collins' spoof of Jean Claude Van Damme's stunt split between two rolling Volvos back during his failed bid in the Republican party primary for the seat in 2014.
[Related: Candidate and fleet owner channels Van Damme in ad]
Clearly, Collins is marshalling long experience in trucking to connect with operators on issues, and he's hopeful for this Congress' ability to move the needle in some ways -- the House of Representatives, anyway.
"Your problems are really not in the House," Collins told Grosvenor, Mitchell and those listening. "Most people in the House see the need to fix trucking issues to help trucking." Yet in the Senate, "we need people calling their Senators ... [to] light them up. And tell them to get to work. ... Whatever we pass out of the House it seems like it's just dying over there in the Senate in a black hole."
Some measures like the REINS Act, currently with 118 cosponsors, all Republicans, might not have more than a slim-to-none chance in the Democratic-controlled Senate -- the same might be said about the bill that would block FMCSA's pursuit of a mandate for speed-limiter use. Collins is not currently a cosponsor of that legislation, yet he signaled a measure of support, noting he felt mandating the technology could be a "slippery slope" toward more regulation.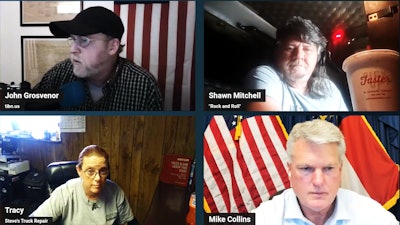 Parking, liability fears, hours of service
On a partial fix to at least one issue, there is bipartisan support.
Collins described the parking bill that cleared House T&I Tuesday as "bipartisan all the way through," given increasing visibility of the problem to Americans all around the nation. "We used to be able to park at the shipper or consignee, and that would also help you out on your hours of service." A reason the practice has gone by the wayside at many facilities, he felt, was general liability and "this sue-crazy country," with shippers/receivers limiting access to their property in fear of something bad happening.
"Until we do true tort reform," Collins added, the parking problem may just continue, no matter how much money you throw at it. And trucking companies would also remain convenient targets for outsize lawsuits even in minor or not-at-fault accidents "until we get these nuclear verdicts off of us."
[Related: Nuclear-verdicts threat rolls downhill to small trucking companies, owner-ops]
Liability issues extend to drivers' control (or lack thereof) of their schedules and the very ability to drive after limits in the hours of service are reached, too, he noted. In response to a caller's illustration of the strict hours accounting mandated use of electronic logging devices has forced on operators, Collins pointed to the off-duty-driving status that is possible with use of personal conveyance mode in an ELD, including in situations where a shipper/receiver has exhausted a driver's available hours with a long load/unload. Yet for the company driver asking the question, he acknowledged such a status may not always be an option for reasons of the trucking company's fear of liability, should something bad happen.
"A lot of companies don't" allow personal conveyance use simply "because of liability," he said.
Trucker John Grosvenor had opened the Wednesday discussion with mention of a bill introduced in the last session of Congress by Florida rep Brian Mast, dubbed the "Keep on Trucking Act." H.R. 8417 garnered no support from fellow Republicans or Democrats in 2022, and hasn't been reintroduced this session. It's intriguing, though, in that it picked up on views expressed by many owner-operators in Overdrive's audience given two-plus years operating under the COVID-19 emergency's hours of service waiver for certain commodities.
The text of the bill would deliver maximum hours control to operators, essentially, mandating only that motor carriers be required to deliver at least 10 hours off to any driver who requested it. It would be a radical departure from the max limits on duty and driving time in place today, prohibiting DOT from prescribing such limits.
Collins noted he wasn't aware of that particular piece of legislation, but did note that discussions of the COVID-19 hours waiver and the flexibilities it enabled had come up in recent House T&I deliberations. Collins expressed a measure of support for the notion that "since we were able to extend the hours of service ... where we rode through the pandemic on certain rules, why don't we keep those rules? ... That's welcome to the trucking world."
A measure, he felt, counter to the usual treatment from federal agencies with the layering of rule upon rule upon rule upon ...
[Related: Owner-ops, groups: COVID hours waiver should open the door to greater flexibility]
You can tune into the discussion in full via Grosvenor/Mitchell's "Truckers Independent Broadcasting Network" Facebook page or TIBN.us. Near the end, you'll hear a dial-in, too, from Logan Miller, who will be 17 in July. Regular readers will recall Logan, son of then Mercer-leased owner-operator Jason Miller, when during the early days of the COVID pandemic the then-13-year-old spent time delivering bagged lunches to operators passing through a couple of different rest areas near his home in West Virginia. Rep. Collins and Miller talked through issues of interstate CDL access for 18-year-olds, as Logan looks forward to being able to drive commercially. Notably, among the bills that failed to pass out of the T&I Committee on Tuesday was a measure called the "Drive Safe Integrity Act" that would have opened up interstate hauling to 18-year-olds beyond the pilot program currently in place through FMCSA.