FMCSA Associate Administrator for Policy Larry Minor spoke as a guest on the online Truckers Independent Broadcasting Network show of trucker/host John Grosvenor and owner-operator Shawn Mitchell last Thursday evening. Minor's remarks are worth resurfacing for you here given his emphasis on the exploratory nature of the current Advance Notice of Proposed Rulemaking (ANPRM) around various aspects of the electronic logging device mandate.
An ANPRM, as most readers are probably aware, is an information request sort of notice that, in the case of this one, has certainly raised the eyebrows of many in the owner-operator and small fleet community, evidenced by the round-up of commentary published here yesterday.
[Related: 'Leave us alone': ELD-exempt owners say not to any pre-2000 exemption change]
The strong reaction has come to the very suggestion of possible change -- the agency specifically asked about ELD connectivity possibilities in remanufactured engines in glider kit trucks that are newer than the engine itself. If the engine's original build date is pre-2000, today that exempts the owner from the necessity of complying with the mandate.
"We're asking questions about it," Minor summed up the agency stance as of the publication of the ANPRM. "This is not a proposal to change anything."
Yet owners of gliders who today enjoy an ELD mandate exemption might well be justified in skepticism -- partly due to the simple fact that if you drop "Advance" from the name of this type of info request, you get an NPRM. That is, a Notice of Proposed Rulemaking. A proposal that makes it to that stage is clear indication of an intent to move forward with regulatory change.
As anyone who's run a mountain grade knows, objects put in motion at the top tend to gain momentum on the way down
That's not where we are today, though, Minor sought to emphasize.
Owner-operators like Mike "Mustang" Crawford and Bill Ater, though, both quoted in yesterday's story about ELD-exempt owners' strong reaction to the information request thus far (and both running older trucks with their original pre-2000 engines in them), might rest easy when it comes to the potential change for owners in their situation. Minor also emphasized that the ANPRM principally concerns itself with the glider kit situation. Can older engines, if sitting in a fully modern truck chassis, accommodate the technical needs of an ELD itself?
As also illustrated in yesterday's reporting, there are many owners who feel that's not the case.
Wherever all of this goes, it's heartening to hear directly from someone like Minor on the agency's intentions around the mandate -- kudos to operators Grosvenor and Mitchell for making their conversation with him available.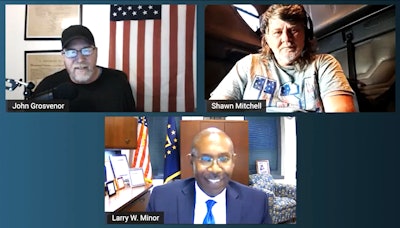 Minor also encouraged owners who thought "other areas" related to the ELD regulations needed attention to let it be known through the public comment process. "Now would be a good time to share that information with us," he said.
Plenty operators have been doing just that, as also evidenced in yesterday's report, particularly when it comes to the very existence of the ELD mandate itself and the "race the clock," hurry-up dynamics many feel the ELD/hours-rule combo puts on their operation. It all adds up to additional "job-related stress," Grosvenor noted during the conversation with Minor. Grosvenor asked whether FMCSA was considering any potential change to the hours of service rule itself, whose 14-hour daily duty window is most often what's referred to when "racing the clock" is invoked.
There's nothing in the current regulatory agenda, Minor noted, that would indicate significant hours change in the offing. Minor pointed back to added flexibilities with the change to the split-sleeper procedures that went into play in 2020. Those regulations do offer some ability for operators to pause the counting of the 14-hour clock for up to 3 hours with an off-duty break, a change welcomed by many owner-operators.
[Related: Where to find a two-/three-hour 14-clock pause in the new HOS]
Lisa Schmitt, business partner of owner-operator Lee Schmitt, who earlier this year requested an exemption from much of the hours of service -- excepting daily 11-hour drive time limits -- made a call-in appearance on the show, too. The Schmitts continue to await a judgment on their exemption request, one that, if granted, might chart a path forward for others desiring a maximum of flexibility when it comes to daily hours utilization.
Minor offered no clear indication of which way FMCSA might fall on that request, noting though that the agency "got a lot of public comments" on that and one other referenced request of a somewhat similar nature -- perhaps a reason a judgment hasn't yet been issued there as officials analyze the voluminous comments.
Time will tell. You can listen back to my conversation with the Schmitts about their request via this edition of Overdrive Radio from June:
On Grosvenor and Mitchell's show, you'll hear some discussion, too, of appropriate use of personal conveyance (including movement from a shipper/receiver facility after exhausting on-duty hours loading/unloading) and more of Minor's considered outline of other parts of the ELD-related information request when it comes to the device certification process, guidance around malfunctions, and more. It's available in full via this link.