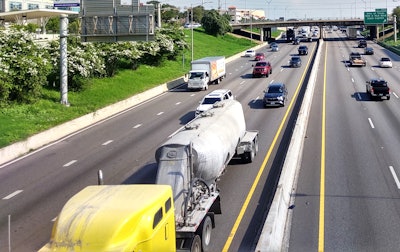 As the Federal Motor Carrier Safety Administration explores possible changes to its electronic logging device regulations, truck owners with older engines who have so far avoided the mandate are speaking out against a potential change to the pre-2000 engine exemption.
In a notice published Sept. 16, the agency said it is considering changes to the ELD mandate regarding pre-2000 engines, how ELD malfunctions are addressed, and more.
Particularly notable for owner-operators in trucking are potential changes to the pre-2000 engine exemption. In its notice, FMCSA said "many vehicles with pre-2000 and most vehicles with rebuilt pre-2000 engines have engine control modules (ECMs) installed that could accommodate an ELD." The agency then poses the question: Should FMCSA re-evaluate or modify the applicability of the current ELD regulation for rebuilt or remanufactured CMV engines or glider kits?
After just a little more than a week of comments, FMCSA has received nearly 700 on the notice, many of which pertain to glider kits and pre-2000 engines. The comment period remains open through Nov. 15.
[Related: FMCSA considering changing ELD regs around glider kits, pre-2000 engines, more]
Commenter Walter Gilmer noted he has a 1999 Caterpillar engine in his truck. "Yes, it has [an] ECM, but it's limited as to what it can do," he noted. Another commenter, Michael Thompson, added that the ECM on pre-2000 engines "won't support the data the ELD requires." Thompson added that many owner-operators like older trucks not because they allow them "to cheat paper" logs, but "a lot of us do our own repairs" and the older trucks are "more reliable than new stuff."
Jordan Sharp noted, "the viability of pre-2000 trucks to operate ELD is just not there."
Allen Boyd said in his comments that he has experience running both paper logs and ELDs, noting that paper made his job easier.
"The guys running the old-school trucks enjoy the lack of technology," he said. "Having run paper and e-logs, I can attest that I was much happier on paper than e-logs. I was much more rested and never had to push the envelope worrying about my clock."
Boyd noted that if he couldn't find a place to park, because paper logs had 15-minute blocks, "you could gain some time by rounding down if you were under seven minutes on a block," and over the course of a day, "it might gain you an extra 30 or 40 minutes if you needed it to find somewhere to park."
Some commenters also mentioned that when FMCSA announced there would be an exemption from ELDs for pre-2000 engines, a number of owner-operators invested in those engines for that purpose.
"Many owner-operators have spent thousands if not millions on equipment with pre-2000 engines for the fact they are exempt from having an ELD," said Christopher Auditore. "It is completely unfair and ridiculous that the FMCSA is trying to reverse the rule knowing that these companies have already spent the money on the equipment for the sole purpose of not having an e-log and they will not be able to resell it for what they paid if they are going to be required to have an ELD."
Nick Urso echoed Auditore's comments, noting "it's important to many that invested in pre-2000 [engines] to keep the exemption."
In addition to the investments made, commenter Martin Ellis also noted that small fleets have developed business plans "that took all the regulations into consideration," adding that "they should not be penalized for the lack of foresight of our regulators."
For owner-operators like Mike Crawford, who has put 4.2 million safe miles into a meticulously maintained 1994 Freightliner FLD120 with its original Detroit Series 60 engine, his equipment investment preceded the ELD mandate by decades. He doubts his older engine could even accommodate an ELD. Crawford estimated that only about two or three percent of drivers run paper logs, and said that "instead of chastising or punishing everyone, just punish people causing trouble," like running 5,000-plus miles a week. Crawford said he avails himself of the advantages of paper logs, and that an ELD would force the 74-year-old to drive when he's tired.
"At my age, I drive when I want," he said.
Bill Ater, an owner-operator with 47 years behind the wheel and almost two decades of that with a 2000 model year Freightliner FLD120 powered by a Detroit Series 60 built in April of 1999, said that an ELD mandate on his truck would be "the end of my career." Ater, who spoke to Overdrive and also commented to the FMCSA, said his truck is "all complete factory, this isn't a glider kit," a newer truck with an old engine.
"Being 67 years old, I'm really tired of the way things have gone," he said. "They're talking about speed limiters and electronic IDs. What about the trucks with mechanical engines? Should we take them to the scrap yard?" Ater said that if FMCSA wanted to pay for the ELD install and the monthly service bill, that would be one thing, but as-is, he can't see himself making the change.
Pawandeep Singh, also a one-truck owner-operator, voiced concern over the impact requiring ELDs on pre-2000 engines would have on small business truckers broadly. "It is already very hard to survive in this slow market," he said, with "expensive repairs and long waiting for parts, especially electronic chips." A shift in the pre-2000 exemption, he added, would "crush many small owner-operators under the burden of cost of adding more electronic devices to trucks and will do more damage to common people."
Craig Plumley, owner of 40-truck Plumley Trucking out of South Carolina, said when the ELD rules came out, his fleet "invested over a half million dollars in glider trucks so we could keep our safe drivers with years of experience." He added that if the exemption goes away, he foresees many drivers leaving the industry. "I'm sure I'm not the only fleet owner who is trying to keep the older, more experienced drivers, nor the only one who invested a lot of money to do this."
Tom Hartman, owner of small fleet TK Trucking, said his company has had four trucks operating at a time and that the company has owned trucks older than the 1999 model year. "The reason we have not bought newer trucks is that we did not want to have ELDs installed," he said. "In our 22 years of trucking, our drivers have operated using both paper logs and ELDs. They report that they are more efficient using paper logs." Furthermore, "Many drivers are concerned about data collection that would infringe on their privacy," he added.
Some owners also mentioned the costs of ELDs themselves as problematic for owner-operators and small fleets.
Pete Kaspar, for instance: "The additional costs to purchase and maintain this ELD equipment, after purchasing exempt pre-2000 equipment is yet again further financial burdens onto an already over-regulated/taxed group of Americans. ... Leave us alone. Fix the roads and bridges. Provide more truck parking. Insist upon better driver training."
Ruben Gonzales, commenting under the above poll question on OverdriveOnline.com, underscored a measure of respect by the government he felt could be restored for professionals among truckers, deeming the current hours of service combined with electronic enforcement as "unsafe," yielding more careless driving as so many race the clock. Time pressures need "to be more relaxed," he wrote, something the hours of service tied to an electronic clock do nothing to encourage.
With an already-strained supply chain due to parts and equipment shortages, federal docket commenter Matthew Roberts noted "the catastrophic supply chain disruption" that requiring ELDs on pre-2000 engines "would bring to the logistics sector would be detrimental." --Todd Dills contributed to this report.
[Related: 'Man v. machine' comes to the roadside: Mitigating rising 'false log' risk]