Trucking news and briefs for Tuesday, Sept. 20, 2022:
FMCSA planning study on driver involvement in autonomous trucks
The Federal Motor Carrier Safety Administration, in a notice to be published Wednesday in the Federal Register, announced it will be conducting a driving simulator study with a series of questionnaires that will evaluate how commercial motor vehicle drivers engage with trucks equipped with automated driving systems.
The study comes on the heels of FMCSA, with sister agency NHTSA, exploring an autonomous-truck crash in the fleet of the TuSimple company in which operator engagement may well have played a role.
FMCSA said approximately 100 drivers will participate in the new study, which will examine the effect of non-driving secondary task engagement, transfer of control, and training on driver behavior in trucks equipment with Automated Driving Systems (ADS) tech.
[Related: Autonomous truck crash draws federal attention]
In its Federal Register notice, FMCSA said Society of Automotive Engineers (SAE) Level 2 (L2) and Level 3 (L3) automated driving systems "present an environment that is ripe for overreliance." Level 2 ADS trucks offer support to the driver, but the driver is still responsible for driving at all times. "At this level, engaging in non-driving secondary tasks can be highly detrimental to driving performance, as the driver may not recognize and respond to hazards timely or appropriately," FMCSA noted.
In a Level 3 autonomous truck, "the role of distraction is blurred," the agency said. "The driver takes on a more supervisory role and is in full control of the vehicle in a limited number of situations." When a driver is alerted that a takeover is required in an L3 truck, FMCSA added, "the driver needs to have situational awareness to resume full control of the vehicle."
Engaging in non-driving secondary tasks could prevent that situational awareness, the agency noted.
FMCSA is now looking to obtain more data to evaluate driver readiness to assume control in SAE L2 and L3 trucks, and develop and test a truck driver distraction training program to help improve driver readiness.
The White House Office of Management and Budget (OMB) has to approve the information collection request before the study begins. FMCSA said 50 drivers will participate in the L2 study sessions, and another 50 drivers will participate in the L3 study sessions.
[Related: How far could the crash-liability chain extend for autonomous vehicles?]
Steering issue prompts recall of Western Star trucks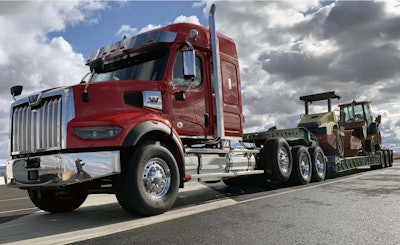 Daimler Trucks North America is recalling approximately 202 model year 2022-2023 Western Star 47X and 49X trucks, according to National Highway Traffic Safety Administration documents.
The recall says the U-joint pinch bolt on the steering shaft in the affected trucks may detach, which can cause a loss of steering control.
Dealers will inspect and repair the joint, as necessary, free of charge. Owner notification letters are expected to be mailed Nov. 11. Owners may contact DTNA customer service at 1-800-547-0712 with recall number FL952. NHTSA's recall number is 22V-681.
[Related: Newer Western Star, Peterbilt, Kenworth truck recalled]
Driver named Highway Angel for stopping to attempt extinguishing RV fire
The Truckload Carriers Association has named Bay & Bay driver Phil Jackson, from Tyler, Texas, a Highway Angel for attempting to extinguish an RV burning on the side of the road.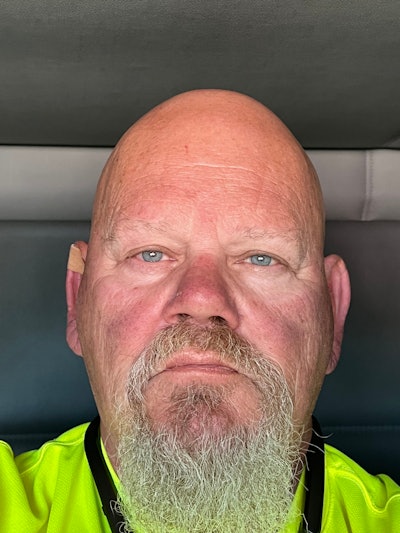 On July 2, Jackson was driving on Highway 287 South in Moore County, Texas, when he noticed an RV on fire on the side of the road, with its passengers trying to determine how to extinguish it. The RV had a trailer attached with a car on it, as well.
"I realized it was a motorhome on fire," Jackson said. "So I pulled off on the shoulder and grabbed my fire extinguisher."
Jackson ran across the divided highway with his fire extinguisher in hand to put the fire out but realized the fire was too large for just his extinguisher.
"It looked like they had ruptured a fuel line," Jackson said. "There was a pretty good little fire going down in there."
In order to save the trailer and car attached to the motorhome, Jackson worked quickly to unhook the vehicle from the RV. He stayed on the scene until emergency personnel arrived.
"I felt really bad for the people," he said. The RV "was pretty much gone." Fortunately, the trailer and car on it were saved.
Jackson has been driving a truck since 1975 and has been a volunteer firefighter and first responder over the years, which helped him in knowing how to act quickly in this emergency situation.
TCA presented him with a certificate, patches, lapel pin, and truck decals. Bay & Bay also received a letter acknowledging him as a Highway Angel.