Trucking news and briefs for Friday, Sept. 16, 2022:
New restricted CDL proposed by legislators to get around training regs
Senate Republicans on Thursday introduced a bill that would allow small fleets with nine CDL holders or fewer to skip the Entry-Level Driver Training requirement by allowing states to issue a new "Small Business Restricted CDL."
Senator Kevin Cramer (R-ND), Ranking Member of the Transportation and Infrastructure Subcommittee, introduced the bill with Senator Mike Rounds (R-SD) hoping to "remove burdensome government regulations, which are impacting the agricultural industry, school districts, and trucking companies."
The ELDT regs, introduced in 2012 by the administration of then-President Barack Obama, added course work and use of a trainer on a Training Provider Registry, maintained by the FMCSA, to the steps needed for a driver to get a Commercial Learner's Permit. The regulation finally took full effect on February 7 of this year, meaning that all drivers still seeking a CLP at that point would need to complete the additional course work and find a registered trainer in something of a shake up to the industry that had already established training protocols.
Though some small fleets certified to conduct pre-CDL training continue protocols to pay operators undergoing that on-the-job work, Cramer contended training classes can cost anywhere from $450 to $8,500, and that they can take anywhere from three to 20 days to complete. The Senator took aim at the "burdensome requirement" in light of the American Trucking Associations' often-repeated estimates of a nationwide trucker shortage of 80,000 drivers.
[Related: House of Reps hears blunt assessment of 'driver shortage']
Cramer's bill, backed by Rounds and Senators John Hoeven (R-ND) and Roger Marshall (R-KS), is called the Trucking Regulations Unduly Constricting Known Service-providers (TRUCKS) Act, which they say would "make certain any driver obtaining a CDL without completing the ELDT process could not switch to a larger company and bring a 'Small Business Restricted CDL' with them."
"Further, it would protect small businesses from these constricting regulations so they can fill their positions in a timely manner and remain competitive in the industry," according to a relase from Cramer's website. "Additionally, the TRUCKS Act would allow states to exempt employees of agriculture-related industries, school districts, and local units of governments (including county, municipal and tribal), from ELDT requirements to obtain their CDL."
Cramer went on to point to supply-chain issues "at a time of tremendous demand," saying "the last thing the transportation industry needs is more overbearing, bureaucratic red tape placed on them by the Biden Administration. The TRUCKS Act allows states to exempt certain drivers from new ELDT requirements and provide regulatory relief to small trucking businesses ensuring we have drivers on the road to keep interstate commerce moving."
The other co-sponsoring Senators took aim at the ELDT regulations' impact on farmers and small businesses, with Marshall saying the "custom harvesters across Kansas are overregulated by federal rulemakers who have never worked on a harvest crew," and that the TRUCKS Act represented a "common sense reform to eliminate barriers for small businesses, farmers, and custom harvesters' crews who are already hard pressed to find an adequate amount of drivers."
[Related: 'Entry Level' truck driver training: How old-school training ways are surviving]
Wabash's new Acutherm trailer sub-brand
Wabash introduced a new Wabash Acutherm portfolio of solutions designed for intelligent thermal management. The new Acutherm sub-brand for the trailer manufacturer seeks to enhance thermal efficiency and management for both hot and cold applications. With superior thermal capability and structural integrity, temperature states can be maintained regardless of application or environmental conditions.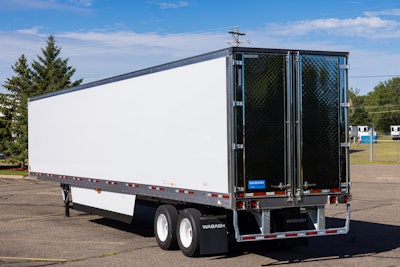 The company's EcoNex Technology takes termperature-maintenance performance to the next level, the company said, providing superior sustainability benefits for trailers and bodies featuring it. They are lighter weight without sacrificing structural integrity, making ideal substitutes for thermal products constructed with traditional materials such as steel, aluminum and wood, the company added.
Wabash Acutherm's debut follows the company's expansion of EcoNex Technology production at its Little Falls, Minn., facility earlier this month, which includes a $20 million investment and more than 200 new jobs by the end of 2023.