Trucking news and briefs for Wednesday, Aug. 17, 2022:
FMCSA, NHTSA looking into autonomous truck crash
An April 6 crash involving a truck being operated by TuSimple's autonomous technology crashed into a concrete jersey barrier along a crowded stretch of interstate in Arizona. The TuSimple truck was the only vehicle involved in the crash.
TuSimple said the crash was caused by an error of the human operators inside the cab at the time.
"A human error occurred when two operators in a TuSimple vehicle incorrectly reengaged the autonomous driving mode without completing all of the steps necessary to safely reengage, resulting in the truck scraping a median," the company said. "Fortunately, no one was injured, there was no property damage, and the only visible sign of the incident was a minor scrape on the truck."
The company noted that in seven years and 7.2 million miles of autonomous vehicle testing, this was the first on-road incident for which TuSimple has been responsible.
A Wall Street Journal report of the crash and TuSimple's safety cited researchers from Carnegie Mellon University, who said blaming the crash on operator error was misleading because it was the autonomous system that turned the wheel. The researchers added that common safeguards in the autonomous system would have prevented the incident from occurring.
TuSimple co-founder and CEO Xiaodi Hou said during the company's second quarter earnings call earlier this month that the company's track record of one accident in seven years of operation is proof that the system is safe.
The company said immediately following the crash, it grounded its autonomous fleet and launched an independent review to determine what caused the incident. Following the review, TuSimple said it "upgraded all of our systems with new automated system checks to prevent this kind of human error from ever happening again."
The company also reported the crash to the National Highway Traffic Safety Administration and the Arizona Department of Transportation.
After self-reporting the crash, the Federal Motor Carrier Safety Administration formally requested information, and TuSimple said it welcomed teams from FMCSA and NHTSA to its Tucson headquarters "to discuss what occurred and the solutions we put in place to safeguard against human errors. Currently, we are helping FMCSA and NHTSA with the review process."
[Related: How far could the crash-liability chain extend for autonomous vehicles?]
Used truck sales fell in July as prices held steady
Preliminary used Class 8 retail volumes (same dealer sales) fell 8% month-over-month in July and were 47% lower compared to July 2021, according to the latest preliminary release of the State of the Industry: U.S. Classes 3-8 Used Trucks, published by ACT Research.
ACT's report also showed that average retail prices were flat from June to July, while average miles rose 1% and average age fell by 5%.
Compared to July 2021, the average retail price was 41% higher, with average miles and age up by 2% and 9%, respectively.
"Given softer spot freight volumes and rates, coupled with still-expensive diesel fuel prices, the logical expectation was for continued declines in values," said Steve Tam, Vice President at ACT Research. "However, we got a bit of a twist in the preliminary July used truck data where prices are concerned."
Tam said it was notable that units sold in July were about five months newer, on average, even though they had slightly more miles on them.
"Occasionally, used truck data appear to be nonsensical," Tam added. "However, it is explained by a statistical phenomenon where the relationship between two variables in a population emerges, disappears, or reverses when the population is divided into subpopulations. In the case of this month's data, a higher number of higher dollar transactions resulted in improved overall results during the month."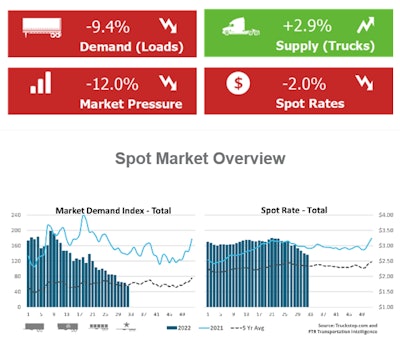 Love's donates $100k to St. Christopher Fund
Love's Travel Stops is continuing its support of truck drivers by donating $100,000 to the St. Christopher Truckers Relief Fund, the company announced Tuesday.
This is the third year the company has given to the organization that helps drivers and their families during difficult times.
"Professional truck drivers are essential to the country's success, and Love's can't think of a better way to say 'thank you' than supporting them during difficult times,'' said Jenny Love Meyer, executive vice president and chief culture officer of Love's. "St. Christopher is a great organization that helps drivers every day, and we're glad to continue to support the organization."
Love's first donated to St. Christopher in April 2020 when the company gave $100,000 to help drivers during the coronavirus pandemic. The relief fund helps with expenses like rent, mortgage, utilities, insurance and vehicle payments, as well as provides free health and wellness programs for drivers who are out of work.
"The support St. Christopher Fund provides for professional drivers is possible because of the generosity of companies like Love's Travel Stops," said Shannon Currier, director of philanthropy for St. Christopher. "We greatly appreciate Love's commitment to help us be a safety net for drivers when they need it most."
Truckers needing assistance can apply online. Supporters can donate online or contact Shannon Currier at shannon@truckersfund.org.
Pork rind brand again supporting St. Christopher Fund
Southern Recipe has kicked off its annual Truck Driver Appreciation Week campaign with a $7,500 donation to the St. Christopher Truckers Relief Fund.
The company is also giving away weekly prizes to truck drivers now through Sept. 18.
"There's not a day that goes by that we take our truck drivers for granted," said Mark Singleton, vice president of sales and marketing at Southern Recipe and parent company Rudolph Foods. "In the midst of a challenging time for many industries, they're still moving forward and keeping our grocery stores stocked. We've been celebrating these important road heroes for more than a decade now, with the help of our incredible charity partner: St. Christopher Truckers Relief Fund. These men and women literally help fuel our families with food and comfort."