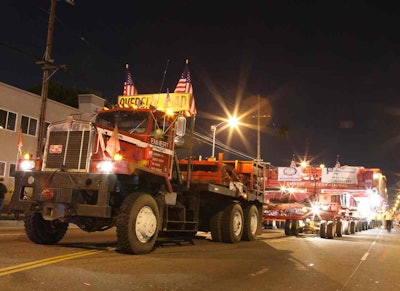 Need a 340-ton boulder moved? Call the heavy haulers at Emmert International.
If you've gotten your copy of the April issue of Overdrive, or read it online in the digital edition, you've likely made note of one monster coke drum hauls the folks at Emmert spent four years planning — and nearly eight months conducting. As we were putting the Severe Service section of the April issue to press, the Oregon-based Emmert was in the news again, this time on American Public Media's Marketplace radio program, for their work hauling the raw material for one massive rock show — Levitated Mass, a sculptural installation piece conceived by Michael Heizer and bound for the Los Angeles County Museum of Art. The 340-ton boulder Emmert hauled will, according to Heizer, mark LACMA's campus as a cultural center in the manner of the monolithic sculptures of yesteryear — from those of the Olmec people to Stonehenge.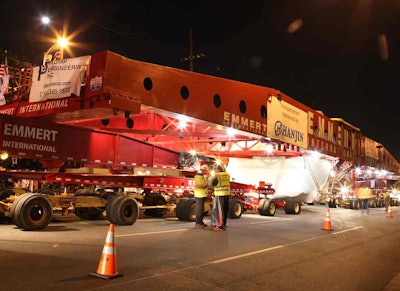 As for the hauling, Emmert utilized three trucks (one lead and two pushers) to tote the boulder slowly — and only at night — into L.A. and along the city's streets, where big-rig photographer Roger Snider of the UltraRigs of the World website took these photos.
To give you an idea of the kind of time and mpg the combined unit was making as it crawled along, as company founder Terry Emmert told Marketplace reporters, "I'd say we're probably getting about 15 gallons per mile. We're doing about 8-10 miles a night.
"It's tens of thousands of dollars a night for these crews to be out here removing signals, utility lines and cables. And then as soon as we pass by, they have to put them back up."
If you can believe it, the total price tag for purchasing, moving and installing the boulder is estimated to come in around $10 million, the bill footed by private LACMA donors.
Read or listen to the full Marketplace report here.
And for more, check out the vid below from LACMA for some views of Emmert crews on the first night of transporting the "granite megalith," or read more at LACMA's site.
[youtube vCW0suiGZKQ nolink]