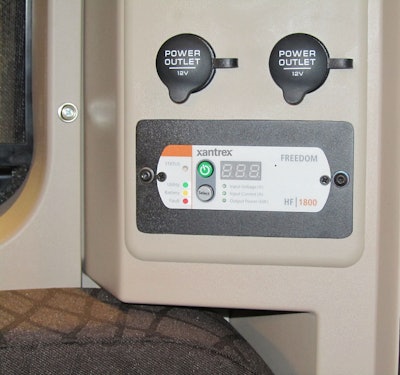 1. Installation best at the factory or authorized dealer aftermarket: If you're considering an aftermarket inverter installation to an older truck or mulling options on a new vehicle, take it under advisement that leading inverter manufacturer Xantrex Technology reps have formally recommended inverter installation by a truck OEM or an authorized dealer.
According to Xantrex, inverter shipments have risen sharply since 2005, and the company expects sales to increase at least 40 percent in the next few years as interest in powering in-cab electrical loads from TVs, microwaves and more without idling grows.
Other benefits of the devices for owner-operators, says Steve Carlson, OEM sales manager for Xantrex, inlude reduced fuel costs and savings on truck-engine wear and tear. Installation of an inverter will also "enhance resale value," he adds.
Factory-installed, Carlson says, you can be certain "the manufacturer uses the proper size cables, fuses and components for the system. OEM or authorized dealer installation will give the fleet operator confidence that the inverter-charger unit will function properly without harming the truck's electrical system."
Also, installing the system up-front will be more economical in the long run, he adds. If the operator chooses to install an inverter on an existing truck, Xantrex suggests using a qualified service location.
2. Avoid self-installation: While Carlson recommends against it, we're curious to know who's self-installed an inverter in recent memory. Tell us here in the comments. He noted common mistakes being use of "under-sized battery cable that can lead to overheating of the cable and consequent damage to the truck and property and risk to personal safety."
3. Look for UL458 standard: Carlson urges truck operators to look for an inverter compliant with UL (Underwriters Laboratories) standard 458. "Products certified to UL458 standards maintain high electrical standards for safety and are designed to withstand the rigors of demanding in vehicle applications," he says. "Many power products in the aftermarket don't carry the UL listing, which is recommended by many trucking industry associations." Xantrex products meet UL458 and other application-specific standards.