Ever fantasized about the potential for airborne diesel refuelers to fill the tanks in-transit? Given the widespread reach of truck stops in America, it's probably well unnecessary, but hey, anybody can dream, right?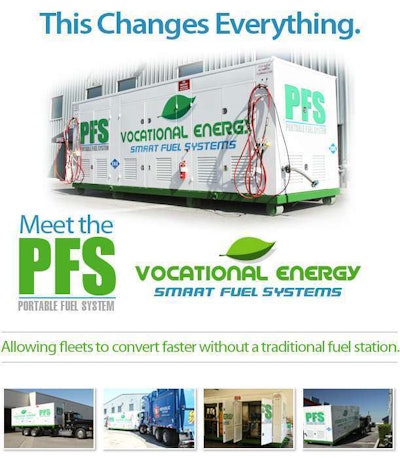 Though efforts are being made — most notably by the partnership of Clean Energy, Pilot and Navistar, as well as Shell Lubricants' own effort — to proliferate compressed/liquefied natural gas fueling stations along major highway lanes, the same can't be said of natural gas fueling opportunities. That why, at Waste Expo in Las Vegas, Nev., this week CNG station builder Vocational Energy introduced its Portable Fueling Station. "What's white and green, can fuel up to eight garbage trucks simultaneously and arrives by a standard roll off truck?" the company asked in its press release.
The PFS is on display center stage in the company's booth at the show to answer the question. Clean Energy's IMW Industries launched a similar mobile station late last year.
Obviously, both companies see potential in waste and other local/regional vocational applications, where interest in natural gas powertrains has been above and beyond on-highway apps. The VE PFS (click through the image for its website) "allows fleets that operate CNG vehicles a way to fuel at their location without a traditional 'brick and mortar' station," the company says, which could well extend to over-the-road terminals in future, should natural gas powertrains continue to gain traction.
Vocational Energy is hoping this gives companies incentives to move more quickly to natural gas power, to "take advantage of the cheaper fuel faster" without waiting for infrastructure improvements.
"We designed the PFS to be transportable by a standard commercial roll-off truck, something that most refuse fleets already have in their inventory," said VE President Scott Edelbach, noting that customers wouldn't have to incur the additional expense of additional driver training or special vehicles to deliver or move the PFS. It simply attaches to a customer's existing natural gas service and electrical power – and the unit is capable of fueling up to eight vehicles simultaneously.
"The PFS can also be rented through Big Truck Rental, as a temporary fueling solution," said Edelbach, noting that the rental niche is designed to service those customers who want to begin using newer CNG-fueled trucks while their stations are under construction.
Related:
Freightliner makes cross-country natural gas haul
Clark: Alternative fuels key to American economic prosperity
Love's to open 10 natural gas fueling stations in Oklahoma
Could stocks lead natural gas power uptake?