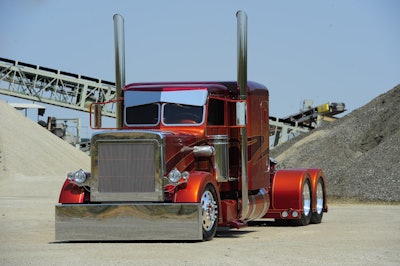 Randy Stroup has had no mercy on his fellow Pride & Polish competitors the last two seasons.
In 2011, the inaugural year of the Pride & Polish National Championship, Stroup brought his '84 359 (pictured above) to just one show — the Great American Trucking Show in Dallas last August.
*******UPDATE 11/5/2015: Stroup's First in Class rig, with four others, is currently in the running for the Truckers' Choice title among five years' worth of Pride & Polish National Championship winners — follow this link to vote once every day through November 20, 2015, for your favorite.*********
He quietly — compared to the raucous atmosphere of the event — bested all others for the Best of Show, Limited-Mileage Bobtail honors and the National Championship trophy in the same category.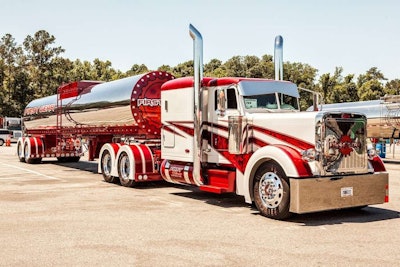 That truck, First in Class, is no stranger to winning, though: Stroup and his Lewisport, Ky.-based First Class Services won the Big-Rig Build-Off in 2008. His second major truck to hit the show circuit, First Gear, a 2005 Peterbilt 379 and matching tanker (pictured right), is becoming quite familiar with victory itself.
In its first two Pride & Polish shows — the Wildwood, Fla.-based 75 Chrome Shop Show and the Las Vegas-held Great West Truck Show — it's won Best of Show, Limited-Mileage Combo, putting it in the running for the 2012 P&P National Championship.
The question begs—Will Stroup win back-to-back National Championships with two different trucks? Also, are there any trucks out there who can slow down First Gear's winning streak? It hasn't looked like it so far.
There are three more Pride & Polish shows this year: Great American Trucking Show, Charlotte Diesel Super Show in Concord, N.C., and the St. George, Utah-based PDI show.
Will First Gear win them all?